~ Quote from Jeremy during the air squat "penalty": "Can I go back to pull-ups?".
Every minute on the minute complete 1 pull-up adding a pull-up each consecutive minute until you can no longer complete the required number in the given minute (Ex. 1 pull-up the 1st minute, 2 the 2nd minute, 3 the 3rd, etc.)  
Continue to 20 minutes. If you are no longer able to complete the required number of pull-ups perform 20 Air Squats each minute up to 20.

Results
Day 15 of the Burpee Challenge!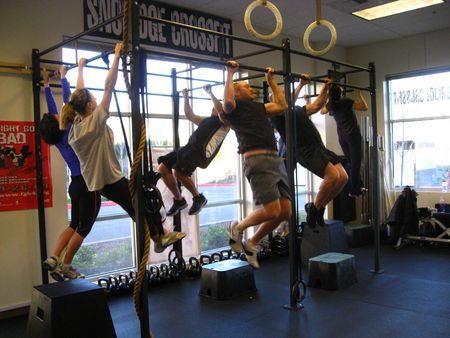 This WOD was brought to you by Curtis and his recent visit to Diablo CrossFit. The "squat penalty" was an interesting twist for an EMOM (Every Min. on the Minute) WOD. It was a nice deterrent to dropping off the bar and calling it good on pull-ups. Special note today on this WOD, Curtis PR'd this after doing this last week at Diablo by a round plus. Better yet Sherry got 9 rounds plus 8 pull-ups after just learning kipping pull-up a couple weeks ago! That's 53 pull-ups!
This video never gets old. Check out Chris Spealler's Quest for 100 pull-ups on the CrossFit Journal. Unbroken!
Notes:
Tonight Mike brought up a statistic that peaked our interest. It was the stunning effects of 1 pound of weight loss on the knee joint. A study from 2005 found that for every one pound lost, there is a four pound reduction in knee joint load. "For people losing 10 pounds, each knee would be subjected to 48,000 pounds less in compressive load per mile walked." Lose a few pounds and save your joints too!
CrossFit Games 2010 site is live!
Bring a hat and gloves tomorrow for Friday's WOD. It might be chilly…
Don started Elements tonight and finished "Baseline" as RX'd: