Strength WOD:
Deadlift 5×3
3/3/3/3/3 
Immediately after complete the following:    
5 Rounds for time of:
5 Deadlift (275#/185#)
10 Burpees
Results
Lucky Number 13! Day 13 of the Burpee Challenge!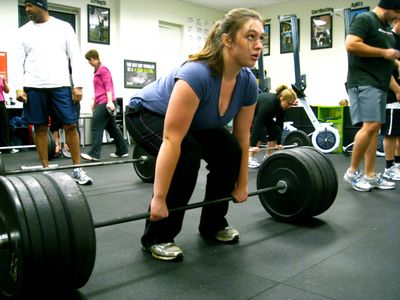 Today was a monumental moment in our gym. No it wasn't a milestone in members, nor was it a WOD of epic proportions. It wasn't someone getting a muscle-up (yet) or a crazy record setting time or winning a competition. What was it? We ran out of bumper plates!!! Everyone went out and got strong on us and as a result the night class was forced to hold a couple people to a second wave so that they didn't need to resort to deadlifting cars parked outside in the freezing cold. The deadlift is a vital lift for building strength and one we need to do more often. There were great PR's tonight for many in the deadlift but most impressive was the weight you women are lifting. It seems like it's time to order some more bumper plates!
Speaking of women and getting strong, check out this incredible photo album posted today on the CrossFit Journal of the women of the 2009 CF Games titled "Beauty in Strength". Now this would be a calendar I would love to buy. 
The DL/Burpee couplet today was a WOD in the 2008 CF Games. The fastest time at the '08 Games for Men was 2:41 and for women was 3:23. Here's a video of the men's WOD: [wmv] [mov] The Games site sure has changed since then. 
Notes:
Today we ordered some Papa John's pizza for lunch. 100% of the profits go to the families of the four fallen Lakewood Police Officers. The local delivery person told me they had beat all their previous one day store records by noon. Tomorrow will be the same fundraiser if you couldn't today. I know what I'm going to eat. You?
Welcome to Shannon, Mike, and Mariela who are almost complete with their Elements and soon will be able to join you in classes. Introduce yourselves and do some burpees with them!