Strength WOD:
3/3/3/3/3 (Warm-up and find your 3RM "3 Rep Max"):
Push Press
Checkout WOD:
For Time:
1000m Row
Results
View this photo
View this photo
Lots of PR's today and bell ringing:
Mark's coaching advice today on the 1k Row for time seemed to really work: "You should fall off the rower when you are done."
We are working on setting up a rowing clinic in November with Lucy and also a local expert (Anna Cummins) who happens to be an Olympic medalist rower and also one of the Concept 2 Master Rowers! Stay tuned for details. After that clinic I am betting we will see tons of rowing PR's.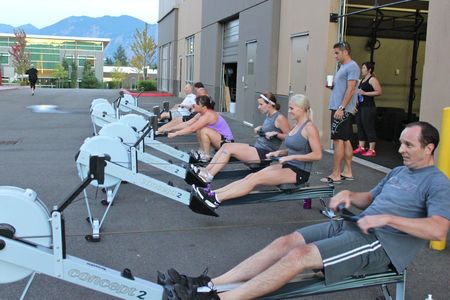 Notes:
Congrats to Marc for reaching his 2 year CF Anniversary this week! What a change and journey it's been so far. We are happy to be a part of it!
If you wanted in on the Inov-8 discount deal from Born to Run then please sign up on the clipboard in the box with your name and email (If you signed up on the whiteboard we need your email address so write your name and address on the clipboard). Next week we are sending them the list and they will email you the discount code good for a discount off a new pair. They have several different styles and the more who sign up the bigger the discount! Sign up before this passes you by.
The Open and next year's Games are right around the corner: Get Ready for 2012 – CF Games