Push Press 5-5-5-5
Push Press 5-5-5-5
Use the heaviest weight you can for each set.
Rest as needed between sets.
AMRAP 11 mins: Double Unders, Toes-to-bars, Dumbbell Front Squats and Dumbbell Push Press
Complete as many rounds as possible in 11 mins of:
30 Double Unders
7 Toes-to-bars
7 Dumbbell Front Squats (50#/35#)
7 Dumbbell Push Press (50#/35#)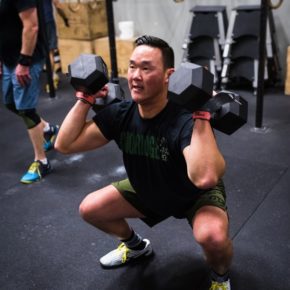 Photos by @robcwilson
Josh Bridges has a YouTube Channel
"That's right – the CrossFit (and actual) veteran is making weekly videos. If we gave you five guesses on the name of his channel, well, you'd probably only need one. Paying the Man is a look at Josh on an everyday basis, from his training to his life being a dad.
Bridges joins Rich Froning, Noah Ohlsen, Tia Toomey and Brooke Ence as athletes who are sharing more of their lives to the public through the video-sharing platform."