Skills WOD:
10 Minutes to practice/warm-up:
Strict or Weighted Pull-ups 
Handstand Push-ups
Conditioning WOD:
For time:
21 Handstand Push-ups
400m Run
21 Weighted Pull-ups
15 Handstand Push-ups
400m Run
15 Weighted Pull-ups
9 Handstand Push-ups
400m Run
9 Weighted Pull-ups
Post time and load
Results
View this photo
View this photo
View this photo
Quote of the day: "The key to all physical training is intensity."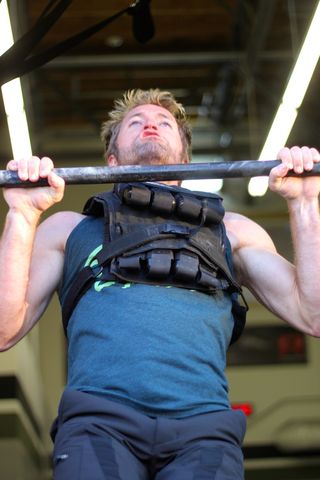 Rocky Balboa dropped in for weighted pull-ups today. "Yo Adrian!"
Got your Halloween costume yet for the Frankenchipper WOD? Times running out and the WOD is Saturday 10/26!
This applies to both snatches and cleans. Fix the early arm bend in both lifts and the increase in power will see your loads go up. 
"Fixing an Early Arm Bend" with Dan Bailey – video [ipod] [mov] [HD mov]
In our gym we post the results and loads/modifications for every WOD everyday. We give you a logbook during OnRamp. We list all of our programming on beyondthewhiteboard.com daily to post on the web if you don't like to write. Are you keeping up with logging your workouts, training, and tracking your performance? If not, then how do you know whether you are making progress or give you opportunities to set new goals? If you fell off from doing it or never started, then start and make it a habit. It only takes about a minute a day.
Keeping a CrossFit Journal tabatatimes.com