Main Class: 
As a team of 2 complete 3 Rounds for time:
50 Wall Ball (20#/14#)
50 Push Press (75#/55#)
50 Box Jump (24″/20″)
* Alternate exercises: Break up reps with partner but stay in order of exercises (i.e. complete all 50 wall balls before starting 50 push press (75#/55#). 
** One bar, one box, one med ball per team. 
Advanced RX Class: 
For time: 
10 Push Press (135#/95#)
5 Rope Climbs (15′)
8 Push Press 
4 Rope Climbs 
6 Push Press 
3 Rope Climbs 
4 Push Press 
2 Rope Climbs 
2 Push Press 
1 Rope Climb 
Results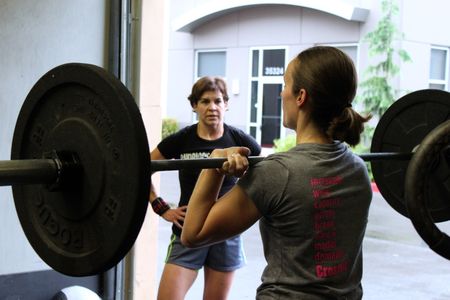 Owwwwwwww! Well yesterday was a fun day for a good cause. Mark took 6th and I was 11th out of 25 I think in the middleweight men's division (175 to 205#) of the 7th annual Strongest Man and Woman event at Rainier CrossFit in Puyallup. It was fun for me personally hitting a couple PR's (260# stone load and my first time moving a 500# yoke) and great to compete alongside some friends. While my body is not happy today I have lived to WOD another day! Congrats to Mark on dominating a couple WOD's. Thanks to Jeremy for judging all day and to Sean for driving down to tell me that I let him down by not placing higher. 
Quote of the day: "Epic Fail." ~ Sean to me immediately after I ran out of time to sprint back in the stone load ladder event and didn't advance to the next weight.