As Many Rounds As Possible in 15 Minutes of:
5 Ring Rows
10 Push-ups (hands release from floor)
15 Squats (hands reach overhead)
Degree of Difficulty: Sub 5 Ring Pull-ups or 5 Muscle-ups for Ring Rows
Results

View this photo
View this photo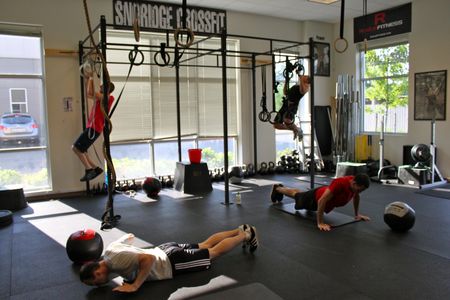 Raise the roof and Over the Box Jumps:
After a couple discussion topics with Michelle, Moe and I this afternoon and another conversation tonight Michelle and I had a brainstorm session. "Uh oh, what does that mean" you ask? No the WOD's aren't going to all include running (sorry to disappoint some of you) and no we aren't going to ban thrusters and burpees from all workouts. We are however looking at implementing some changes. 
We are reviewing pricing, class times, Elements, skills sessions, CF Kids, events and more. We are committing to announce a new pricing structure starting next month that will include: a lower monthly unlimited price and a lower rate for spouses. Who doesn't like to pay less? We are examining our current class schedule to see what times we can tweak and also explore times that we can offer a new class or two. We are working on our trial CF Kids program (ages, times, structure, price, etc.) where it will be first come first serve and limited initially to current members children only. 
Starting this Saturday we will have our first post WOD Skills Clinic for those interested (30 minutes long). This will be a monthly clinic where once a month after the WOD (remember Saturday WOD is 10am only) I will be picking a skill and instructing those who want to stick around. First up is POSE running. We also are looking at easier payment and scheduling tools to make things likes paying dues and signing up for WOD's easier.
These are just a few things on the horizon. Seeing as Michelle says I am horrible at surprises I figured I would spill some of it now. 
Notes:
2010 CrossFit Games: The Men [pdf]
Video: Individual Event 4, Heat 4 "The Sandbag/Wheelbarrow Move WOD"