Main Class:
For time (Teams of 2): 
40 Dumbbell Manmakers (40#/25#)
600m Run 
80 Deadlifts (250#/165#) 
400m Run 
120 Over Box Jumps (24″/20″)
200m Run 
* Partner up. Alternate reps but team must complete each run together. 
** One pair of DB's, one bar, one box.
Advanced RX Class:
Strength WOD:
1-1-1-1-1
2 Position Snatch (Floor/Mid Thigh)
Conditioning:
"Ralph"
4 Rounds for time:
8 Deadlifts (250#/165#)
16 Burpees 
3 Rope Climbs (15′) 
600m Run
Results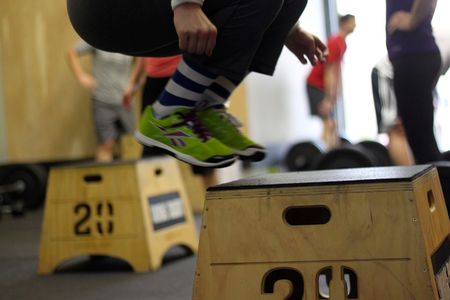 "British Army Second Lieutenant Ralph Johnson, 24, of South Africa, assigned to the Household Cavalry Regiment, based in Windsor, England, was killed on August 1, 2006, in Helmand province, Afghanistan, when insurgents attacked his vehicle with an improvised explosive device."
Good teamwork and hard work all around today. From manmakers to 2 position snatches both classes learned something new.
WOD Demo with Overland Park CrossFit – video [wmv] [mov] [HD mov]
Notes:
Congrats to Michelle "Mums" for notching her 200th WOD in her log today!
This co-ed team workout challenge below from CrossFit HQ at the original Games site looks like a blast!
Announcing the Ranch Big Bob Winter Challenge: games.crossfit.com
"The Ranch Big Bob Winter Challenge invites teams of four to go to The Ranch in Aromas, Calif., to complete a team workout at the legendary home of the first three CrossFit Games. 
To set the standard, a firebreathing team of CrossFit seminar trainers consisting of Jason Khalipa, Neal Maddox, Katie Hogan, and Sarah Hopping finished the workout in 25:49."
Manmaker Sequence: