For Time:
75 Power Snatches (75#/55#)
Results 
View this photo
View this photo
Lucy and Don tackle "Randy":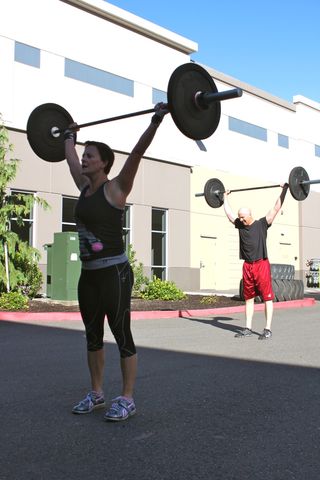 This "Hero" WOD is a tribute In memory of Randal Simmons, LAPD SWAT (deceased Feb. 7, 2008).
Randy = Barbell sprint. We haven't done this WOD in over a year and a half. From the last time we programmed this: "This benchmark WOD is an all out barbell sprint. It quickly gets hard 30 reps in and as you keep moving the back tightens, the shoulders fatigue and the heart pounds. While the weight is relatively light, it feels like you are doing burpees with the bar. In under 10 minutes you get a very effective workout that is all parts cardio, strength and power. Like any Hero workout, knowing what it's for always helps to keep it in perspective while you are pushing through it."
"Randy", by LAPD Swat and CFHQ Staff [wmv] [mov]
Watch this video especially from 4:41 in where Josh Everett crushes this WOD.
Notes:
There are 5 spots left for CF Kids! I am trying to fix the sign up on Mindbody Online for CF Kids session for 10/8 – 11/5. For those who paid and emailed you are good (Lucy, Amy N., and Michelle S.). Today it was jacked up. That is a technical term meaning "f'd up". It should be okay to purchase now if you have an active Mindbody Online Account. If not then my knowledge of using Mindbody is jacked up. I still blame the software.
Oh and nobody got a muscle-up today! What happened?!
 After class a post WOD 2 Minute Challenge of Hand Release Push-ups in action: