For Time:
75 Power Snatches (75#/55#)
* Post WOD complete max effort plank hold for time
Results 
This "Hero" WOD is a tribute In memory of Randal Simmons, LAPD SWAT (deceased Feb. 7, 2008).
Moe and Amanda locking out:
Looks like it's time to update the leaderboard! Some impressively fast performances today by all of you with top M/F times going to Pat and Lorri. This benchmark WOD is an all out barbell sprint. It quickly gets hard 30 reps in and as you keep moving the back tightens, the shoulders fatigue and the heart pounds. While the weight is relatively light, it feels like you are doing burpees with the bar. In under 10 minutes you get a very effective workout that is all parts cardio, strength and power. Like any Hero workout, knowing what it's for always helps to keep it in perspective while you are pushing through it.
After the WOD was another max effort test. Holding a plank is challenging and representative of core strength and mental toughness. Going 5 minutes is crazy hard (Erin and Curtis!), but Rob pushed way past that with a stunning 6:18 tonight after "Randy".
Congrats to Rob, our new "Plank King"!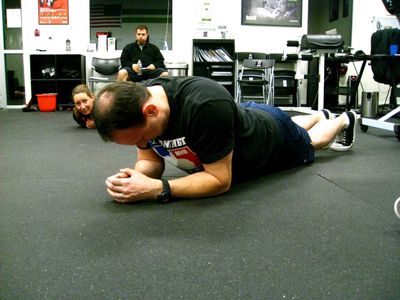 "Randy", by LAPD Swat and CFHQ Staff [wmv] [mov]
Watch this video especially from 4:41 in where Josh Everett just crushes this WOD.
Notes:
Welcome to Melissa, Jeff, and Ryan who all started with us today. We look forward to you all completing Elements soon and joining in the brutal fun!