Skills WOD:
Weighted Ring Dips 
5 x 5
or
Ring-Dips 
5 x 5
Conditioning:
30 reps of each of "2014 Regional Event 6"
For time:
30 Calorie Row
30 Box Jump Overs (24″/20″)
30 Deadlifts (185#/125#)
30 Wall Balls (20#/14#)
30 Ring Dips
30 Wall Balls
30 Deadlifts
30 Box Jump Overs
30 Calorie Row
* 21 Minute Time Cap
Results
View this photo
View this photo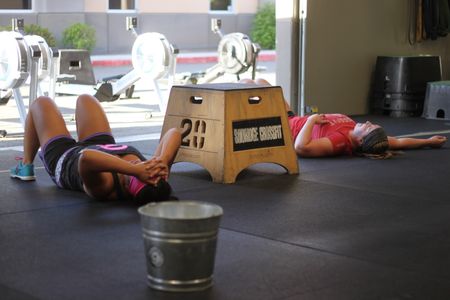 Today was a "lower rep" version of the Regional Event 6 chipper. Keeping the same time cap of 21 minutes like the regional version, I programmed this with 30 reps of each movement and slightly different loads for the Deadlifts (5 lbs. heavier to load barbells easier). The goal was to push people to beat the cap and also to keep the total reps reasonable while not having anyone work for 30-40 minutes to get it all done. Even with fewer reps this chipper was rough!
So far in the first four Regionals only 3 men have been able to complete the chipper under the time cap (no women have completed it yet). Over the next several weeks you can expect to see far more athletes hit the time cap than complete all 450 reps in under 21 minutes.
3 Lessons Learned From the First Regionals Weekend boxlifemagazine.com
Regionals:
The schedule for the NW Regionals weekend is out (May 16-18). Go here to see the event start times by heat for individuals and teams.
Class Schedule:
Friday May 16:

NO AM Classes! 0830/0930 and 1130 are cancelled!
5pm and 6pm classes will run on normal schedule

Saturday May 17:

0830 OnRamp and 0930 Main class will run on normal schedule
NO 1045 Advanced Class!
Today was also 1RM Weighted Partner Pull-ups: