Do 33 Burpees for time then rest! Day 33!
Jeremy did his yesterday, even in the snow: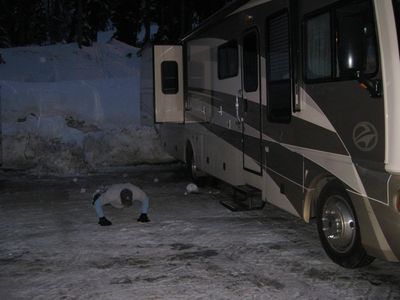 Notes:
The registration website for the 2010 CF Games is open. You can now register for sectionals for our state and region which are on Feb. 27-28 at the Evergreen State Fairgrounds! We strongly encourage anyone thinking of competing or for those trying out for our Affiliate Team to give it a shot. The sectionals are designed to be for everyone and will scale accordingly. It's two days where you get to compete in workouts and have fun. Don't say "I shoulda' or I coulda'" after the fact. Just do it and thank yourself later! (On a side note for Team Squatch it will help you in preparation for our team Regionals in May).
You can also sign up to volunteer or just pay to go as a spectator. Cost is $50 for two days and each adult is allowed 2 kids under 12 for free. Competitor cost is $100 and includes one additional spectator. For more info on the Games (Sectionals/Regionals/Games) go to the 2010 CF Games site.