Quote of the Day: "CrossFit for Curtis is like his daycare." ~ Deb
This pic says it all. Take the day off. Go for a run or just play. Or do both!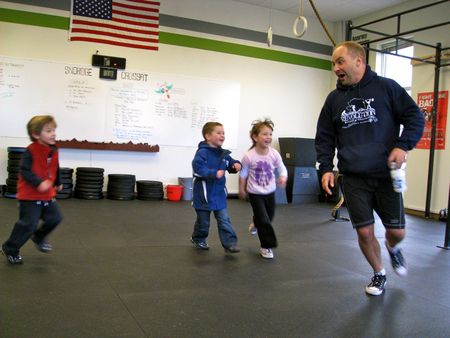 Today is Day 18 of the Burpee Challenge. We didn't forget, neither should you. Get caught up and get 'em done.
Click here for Northwest Sectional and Regionals information on the 2010 CF Games. Our Affiliate Cup Team training has begun! We have 9 of you joining Michelle and I for putting together our team for the Games qualifiers. Over the next several months we will all train, sweat, compete, collapse and maybe even puke together. We will whittle the team to a core of 6 as we get closer to the Regionals but the journey will be what is most important. Our hope is this effort will help raise everyone's fitness level throughout SRCF over the coming months while building even greater teamwork, community and friendships in the box. We are excited to start the a$$-kickings!
I have asked each of those trying for the team to pick three weaknesses each month and diligently focus on them pre and post-WOD. I would encourage all of you to do this as it will add to your general fitness and make you more well rounded. Add them to your warm-up or spend some time after the WOD. Whether it's more stretching, handstands, pull-ups, box jumps, med ball cleans, lifting technique, or rowing we can all find things we should get better at. Even grabbing a PVC pipe and focusing on what seems like the little things such as stance, grip and position for each of the lifts will pay huge dividends down the road. We should never stop learning! That goes double for Michelle and I as your trainers.
Flickr Album from the "Lakewood 4":