As Many Rounds As Possible in 20 Minutes of:
5 Ring Dips
10 Medicine Ball Clean (20#/14#)
15 AbMat Sit-ups
Results
View this photo
View this photo
Erin and the Med Ball Clean: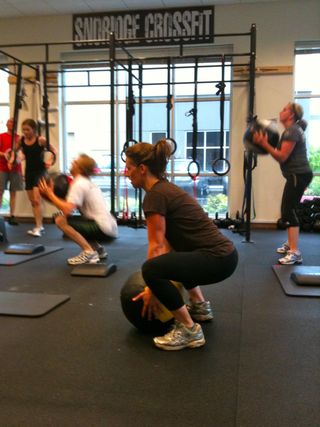 Big thanks to Jeremy D. for running the morning WOD's to cover for us Friday! It's always great to mix it up with different trainers to learn new techniques and hear new cues. Today was time to get back on the rings. We haven't been on them all week and they seemed lonely hanging up on the bars. Ring work and handstands have been neglected. That just won't do. Looks like it's time to find our inner gymnasts starting next week.
As for Saturday, we are going to see how the recent emphasis on snatches, cleans, jerks, and presses have paid off.  We are going to have a choice again. This time it's "Grace" or "Isabel". Either 30 heavy clean and jerks or 30 heavy snatches for time. Good form and technique is crucial and should be a primary focus for all of us. Pick your benchmark, scale accordingly and let 'er rip!
Medicine Ball Cleans with Andrew Thompson on CrossFit.com – video [wmv] [mov]