Strength WOD:
1-1-1-1-1
Press
1-1-1-1-1
Push Press
1-1-1-1-1
Push Jerk
Conditioning:
5 Rounds for time:
400m Run
2 Legless Rope Climbs (15 ft.)
Results
View this photo
View this photo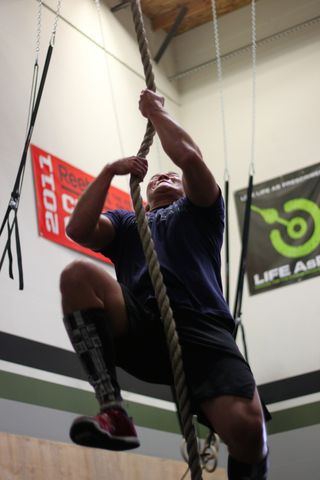 Today I programmed the Masters WOD #3 Legless rope climb event, with a slightly higher climb (15′ vs. 12′). For those who don't have a legless climb, scaling to normal rope climbs or to supine climbs was very much a good workout and practice. If you are climbing ropes ensure you have tall socks or a calf sleeve. This is to protect you from rope burn and in the event you were to cut your shin, it would avoid any blood on the rope (which is an obvious health hazard and costly equipment replacement). So rather than show up and not have a sleeve or socks, keep one or a pair in your gym bag to be prepared.
Schedule:
The schedule for the gym this week during the CF Games will not change with the exception of no Advanced RX Class on Saturday. All other classes are normal times.
Rich Froning Signs Landmark Deal With Reebok www.boxlifemagazine.com
New events announced to kick off the Games for Individuals and Teams:
Beach and Team Events Announced at Athlete Reception