For time:
20 Overhead Squats (95#/65#)
4 Rope Climbs (15′) 
20 Overhead Squats (105#/70#)
3 Rope Climbs 
10 Overhead Squats (115#/75#)
2 Rope Climbs 
5 Overhead Squats (135#/95#)
1 Rope Climb
* Sub 2 Supine Rope Climbs or 6 Ring Rows per rope climb. Must change out weight as you go.
Results
View this photo
View this photo
Congrats are in order. Chest bumps to Natalie for getting her first rope climbs in a WOD today as well as to Lindsay, Dustin, and Rob W for passing and dominating the Advanced RX Skills Challenge tonight!
Weight Change WOD's present a new strategy. Active rest makes for a faster time.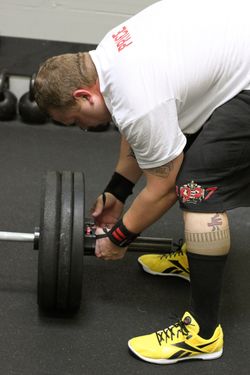 CrossFit For Hope, next Saturday on June 9th, 2012
All funds raised support St. Jude Children's Research Hospital. CrossFit for Hope supports research and treatment for catastrophic children's illnesses.
Sign up or contribute here. (Search for a gym member page to donate to)
Scroll down to a few days ago for details on how we will run this.
Video: Europe Diaries: Day 3 – CrossFit Games
Nutrition: 
"Cooking Smothered Pork Tenderloin" with Michele Vieux CrossFit Journal preview video [wmv] [mov]