For Time:
2000m Row
Amanda row, row, rows her boat tabata style during Elements today.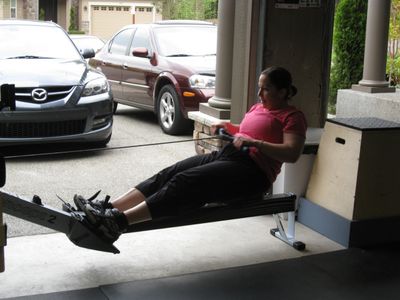 Tonight's WOD drew a universal response.  "That's it? Just one thing?" 
At about the 1000m point is typically the realization that this is a tough benchmark. Everyone had a time or strategy in mind upfront to try and go the fastest. The fun part about it was that as each person rowed you all cheered and pushed each other on. Just another example of what sets CrossFit apart from just "working out". Everyone did great with Curtis's smoking 7:54 leading the pack and Jim and Deb coming in close on his heels at 8:29 and 10:03 respectively. 
Notes:
The class schedule is now posted on the "Schedule and Fees" page. Please try to pick consistent class times and schedule them with us so that we can prepare adequately and plan for up to 4 of you at a time.  If things change during the week and you need to move to another class no worries just let us know. 
Snoqualmie Railroad Days Race 5k or 10k is August 22nd. 
Put it on your calendar.