For Time:
250m Row / 200m Run
500m Row / 400m Run
1000m Row / 800m Run
500m Row / 400m Run
250m Row / 200m Run
* Alternate in teams of 2 or complete individually
Results
Quote(s) of the day:
1) Kristy after seeing the WOD today ~ "I heard what the WOD was and decided to get a mammogram instead."
2) Laura on being asked if CrossFit is a cult ~ "Why don't they call it a cult when you sit around on your a$$ and eat junk"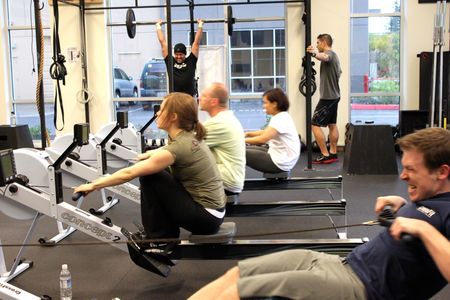 Rowing and running. What better way to keep the heart racing than to have to run harder or row faster for your partner? This WOD worked out nicely either as a team or alone. Either way it's the same amount of work. 
Jorge pulled his "Fran Card" today! To avoid running!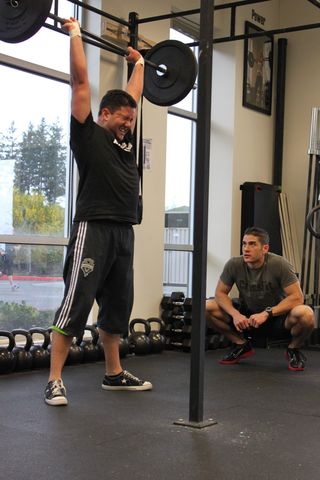 Picking "Fran" over something you want to avoid. Only Jorge had that opportunity as I gave him a "Fran card" a long time ago. He used it tonight after threatening at least a half dozen times. In the process of avoiding the running which he hates he hit a huge PR for his Fran and knocked the reps out with very clean form. Congrats! Ryan also subbed a WOD due to his foot injury and knocked out 30 muscle-ups (again with great form) for time. 
Notes:
This Saturday the box is closed due to the Cinco De Mayo Race. Race registrants get ready for the 8k and 1/2 on Saturday morning. Race details can be found on the right hand side of the page under upcoming events. We have a big group running to represent SRCF.  Wear your SnoRidge T-Shirt, your tutu (for the ladies dressing up) and bring your fastest pair of running shoes.
Me modeling the race attire for Lucy and company: