10 Individually Timed Max Efforts of:
100m Row
Rest as needed between intervals, post time of each row
Post WOD:
Mobility work
Results
View this photo
View this photo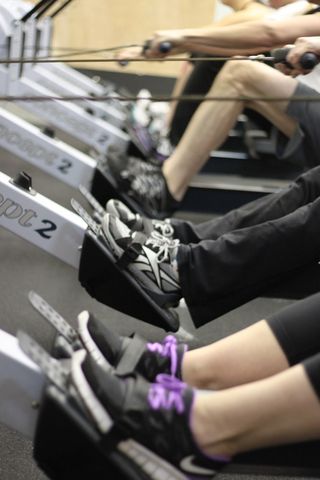 Okay peeps and coaches, here's the skinny for WOD 12.1 of the Open that we will run tomorrow. 
Complete as many reps as possible in 7 minutes of:
Burpees
You must hit your chest and thighs to deck and stand and jump to hit a target with both hands that is 6″ minimum above your full standing reach. If you miss then you just jump and re-touch (you don't have to go back to ground).
1. Each class you will pair up and go in a minimum of 2 waves. 
2. If you are registered and competing in the Open then you will go first.
3. Judge is also responsible for counting and calling "no rep". 
4. Only two things to judge: chest not touching the floor and both hands not hitting target.
5. Push your fellow athlete!
Target standards: 
1. You must be measured (measuring tape is on the box with the iPod and speakers) to a target at 6″ minimum above your outstretched hand overhead
2. Target options:
– You may use the cage (different height bars)
– You may adjust a set of rings and place a PVC across them (helps prevent sway)
– You may adjust a single ring to height
– You may use the adjustable pull-up bar on the cage (Kids bar)
– You may tape two pieces of tape hanging down from the pull-up cage to stop at min. 6″ above reach 
– You may loop two pull-up bands to the cage and tie them in the middle to height
3. Both hands must hit the target.
Have fun and remember burpees suck! Buck Furpees!
For a downloadable PDF of the workout, click here.
CrossFit Games Open 12.1 workout instructions and demo – video [wmv] [mov] [HD mov]