4 Rounds for time: 
250m Row
15 Box Jumps (30″/24″)
20 Kettlebell Swings (70#/53#)
Results
View this photo
View this photo
 Happy birthday Mr. McDreamy: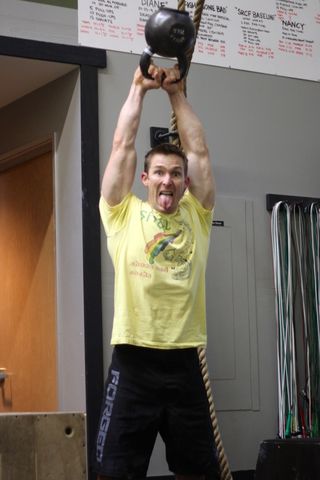 Tomorrow's Open WOD.
Complete as many rounds and reps as possible in 12 minutes of:
150 Wall ball shots, 20 pound ball
90 Double-unders
30 Muscle-ups
RX Standards:
– Wall ball: No butt balls, you must squat to depth. You must hit the line clearly (no grey; either green line for women or black for men). Any wall balls that miss touching the wall but go above the line are no reps. 
– Double-unders must be successful, snags and attempts do not count. 
– Muscle-ups must begin with a fully extended arm and finish with a fully extended arm locked out. 
Special tiebreak method:
Attention judges: For Open competitors only, at the end of each set of exercises, time should be marked. Specifically, as soon as the 150th Wall ball is complete, time should be marked. As soon as the 90th Double-under is complete, time should be marked.
– Each class you will pair up and go in 2 waves. 
– If you are registered and competing in the Open you will go first with a judge. Judge is responsible for counting and calling "no rep". 
– If you finish in under 12 min. but do not have a MU then do max reps MU progressions or MU "Kip-ups" in remaining time.
– Have fun and push your fellow athletes! If you did this last year (Open WOD 12.4) then go for a PR.
For a downloadable PDF of the workout, click here.
Watch the Workout 13.3 Live Announcement on the CrossFit Games site.
CrossFit Games Open 13.3 workout instructions – [video]