For Time:
1000m Row 
21 Power Snatches (95#/65#)
21 Ring Dips 
750m Row  
15 Power Snatches 
15 Ring Dips  
500m 
9 Power Snatches 
9 Ring Dips 
Or Complete as a Team of 2 and go for time of 4500m Row, 90 Ground-to-Overhead (95#/65#), and 90 Ring Dips
* One partner rows while the other works until 4500m are complete, then complete remaining reps
Results
Powerful (This is what we mean when we say "Extend" or "Jump and Shrug"):
Looking for some great Paleo recipes? Our very own Amanda L. recently submitted two recipes to Whole9 that were featured along with several others for their "Steal This Meal" Thanksgiving section. See the below links and give them a try. We sure will!
Steal This Meal: Thanksgiving Pt. II "Warm Spinach, Prosciutto, & Pistachio Salad"
Steal This Meal: Thanksgiving Pt. III 'Roasted Beets and Pistachio Butter"
Want "barefoot" or "Pose" style running shoes? Want shoes good for all around CrossFit? While there is a great reason as an athlete and CrossFitter to own weightlifting shoes, having a pair of shoes that work for all around WOD's is also vital. Flatter shoes help with lifting, running, jumping, and bodyweight movements in CrossFit. Running shoes with "Shox" or "Cells" or "Air" simply suck. As in they suck the stability out of your weightlifting movements and rob you of powerful explosion with a barbell and a sturdy platform to land on or drive through. They also lead to heel striking when you run with your heel landing first, sending shockwaves through your foot, knee and hips. That can mean the difference in a PR. Chuck Taylor's from Converse are a personal favorite. Nike Free's are popular too. There are quite a few choices, but generally look for a good minimal athletic shoe or trainer.
ShoeMart.com is a company owned and operated by a CrossFitter. See their blog for a forum specifically on CrossFit shoes they sell to include a handy Inov-8 buying guide. We also have a banner on our site (bottom left side) that if you use will get 10% off your order.
New Colors Coming Soon for Inov-8's – The ShoeMart.com Fitness Store
Coaching Tip: Ring Dips and Ring Depth with Sangeeta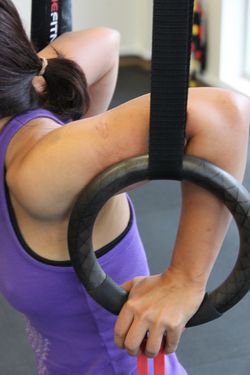 The proper depth for a ring dip is to have the shoulder below the elbow
Lower your body and let your chest dip forward of the rings, while your elbows travel "back" and not "out"
Keep the rings close to the body and feel the rings touch your chest or armpit area
Drive back out to a full lockout position
Scale with a band if you already have a strong box or parallette dip