3 Rounds for time:
Row 500m
20 Pull-ups
Run 400m
Results
View this photo
View this photo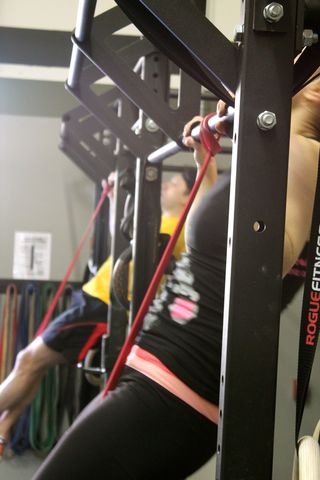 Wall climbs and thrusters likely took their toll on the shoulders and overhead pressing so today was time for some work on pulling and cardiorespiratory endurance.
Tomorrow for Friday 12/23 we will only have 0830/0930/1130 classes, no PM Classes!
Christmas Schedule:
Saturday 12/24 will be our Annual Christmas Eve WOD and we will have 2 class times, please sign up on the whiteboard: 

9:30 am is FULL and all those signed up on the whiteboard will have priority for each class
10:45 am is almost FULL too but will have a second wave if needed
Dress in layers and be prepared to work outside
Be patient if it's crowded and wait upstairs or in the lobby
Tell the little monsters to stay calm and obey all instructions from the cockpit

Monday 12/26 we are closed!
"Defining CrossFit" with Greg Glassman – video [wmv] [mov] [HD mov]
CrossFit Games Marathon on ESPN2, New Year's Day starting at 1:00pm ET – video [wmv] [mov]