* Not you all, the dumbbells!
For Time:
21 Dumbbell Push Press (40#/25#)
500m Row
18 Dumbbell Push Press
500m Row
15 Dumbbell Push Press
500m Row
* Post Warm-up instruction/practice Turkish Get-ups with Kettlebell or Dumbbell or Barbell
Results
"Get UP!"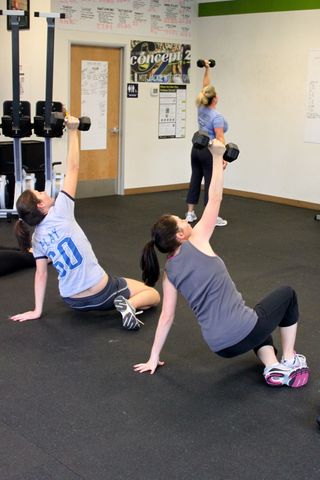 Who liked Turkish Get-ups? These are good for building functional strength, strengthening the shoulder girdle, legs and midline, and developing coordination. Read the link above, and work them before or after a WOD. Start light and learn the movement before adding weight. 
Turkish Get-up Variations – Jeff Martone [wmv] [mov]
Both of "The Paleo Solution" books are officially claimed to be checked out (Rob and Maria). As soon as they are read and returned I will post it for whoever is next.
Push/Pull:
Notes:
Saturday class tomorrow is a Team WOD (teams of 2) and Michelle will be coaching. Bring your game face!
Tomorrow is also the Mt. Rainier Strongest Man and Woman, a fundraiser for Fragile X Research to be held at Rainier CrossFit in Puyallup from 10 am until around 5:30. Come watch the events in RCF's huge new box!
Representing Team Squatch will be Pat, Moe, Sean, Mark B., and I. Go to the site to read more but there will be four events that are strongman/CrossFit blended events and unique from what we typically do in the box.
Tentative Schedule:
8-9 Athlete check in/ registration/ weigh in
9-9:30 MANDATORY rules meeting. Athletes MUST be present
10am Deadlift event
11:30 Run/ Stone/ Rope climb event
2pm OHP/ double under event
4pm Farmers walk / sandbag event
5:30 awards
If you are interested in donating to the cause you can donate at the event or just buy some food or drink which proceeds will go to FRAXA. For those who are Microsoft employees (like myself), please don't forget that Microsoft will match any donations. Doris Buffet of the Buffet family has pledged that if FRAXA can raise $500,000 as an organization she will match that amount!