5 Rounds for Time:
15 Deadlift (225#/135#)
20 Box Jumps (24″/20″)
25 Pull-ups
Sgt. Michael Roy, 25, of the Marine Corps Special Operations Forces was KIA on July 8, 2009 in Afghanistan serving our country and protecting all of our freedoms. He is survived by his wife and three children. This Hero WOD is in his honor.
Results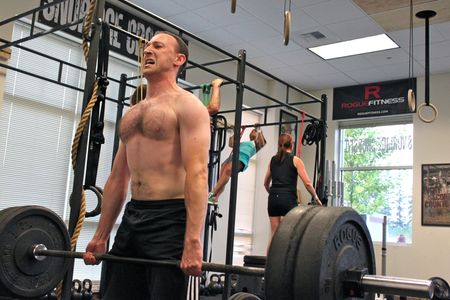 Rob grinding through another round (above) as Steph shows off a good deadlift (below):
Notes:
We are conducting a highly unscientific poll about specific class times and potential changes. Please respond to comments!
For those who actively come to the 6AM class time: Would you like to see class at 0630 or stay the same at 0600? <0600 or 0630>
For those who don't come to the early class: Would you honestly drag your butt out of bed to come get your WOD on at 0630? <yes, no or I'm still inspecting the back of my eyelids at 0630!>
Would you like to see a 0730 Wed. AM class? How about 2 days a week? <yes or no>
Would you like to see a 6pm class on Mon. and Wed.? <yes or no>
If you are interested in learning to row on the water then plan on a Saturday in October (tentatively 10/2)! Huge thanks to Lucy for arranging a rowing session at Sammamish Rowing Association on a nice Saturday morning. The session will start on the ergs on land and then transition to boats for some fun in the water! Post to comments if you are interested so we can get a headcount.
One week until the Danskin Tri, two weeks until the Railroad Days 5k/10k, and don't forget Fight Gone Bad V in September (9/18). Click the icon on the right for more info and to set up a fundraising page to join Team SnoRidge. FGB V will be similar to how we ran this last year and we are partnering with CrossFit Belltown and The Compound and potentially another garage or box.
For Friday only go to Life asRX for a 20% off discount code on their T Shirts. Plug in the code "unbroken" when you checkout.