2 Minute Challenge: As Many Reps As Possible
Max Rep Chest-to-Bar Pull-ups in 2 Minutes
Main WOD:
8 Rounds of:
400m Run
Rest 90 Seconds
Record total time, not including the 8th rest.
Results
View this photo
View this photo
Don sprints it in: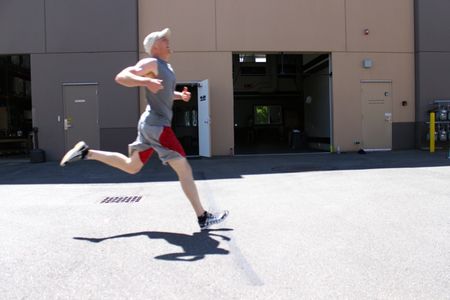 Some epic head to head running races today. The guys at the 1130 and the guys at the 5 classes were particularly aggressive about running their hardest and crossing the finish first. Doing a WOD like this is great to have people alongside to both pull and push you to run harder.
Read:
"Going to the Games" for more details on the way the 2011 CrossFit Games will be run, broadcast, and organized.
Mobility class is tomorrow at 7pm with Rona for those eligible and interested. Sign up on  Mindbody Online 
Focus this week will be working on recovering external rotation and overhead position, shoulder work and some soft tissue work on the glutes. Sounds spicy!