For time:
400m Run
40 Pull-ups
20 Handstand Push-ups
400m Run
30 Pull-ups
15 Handstand Push-ups
400m Run
20 Pull-ups
10 Handstand Push-ups
Results
View this photo
View this photo
Today was a little bit of a smoker. I challenge Spencer to a duel going against with Rob W. at this WOD. Just because. BTW, happy birthday to both Rob W. and Maggie! While I didn't have a good picture to use of either of them, I did discover why Rob was so fast at this WOD… virtual pull-ups (left side of pic):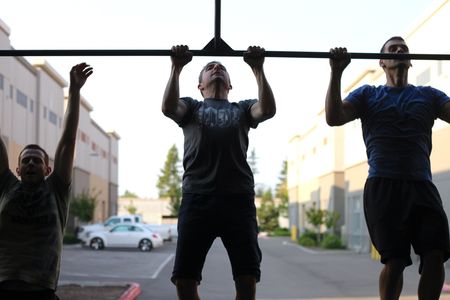 "Let Me Tell You About CrossFit" – video [wmv] [mov] [HD mov]
"You haven't heard of CrossFit? Let me tell you about CrossFit.
CrossFit is a lifestyle in which you are prioritizing your health and the ability to do many different things at a high level of intensity. I think it's the absolute best way to help you reach your fitness goals.
For me, it's making me happy, a fun way to get fit with like-minded people. The last person finishing is just as important as the first one.
It's this team atmosphere that ends up making you better as an individual. It's camaraderie. That family that you end up building and the energy that you get back from it yourself, that's CrossFit to me.
You come to a CrossFit gym, everybody knows your name, everybody loves you, and you're a part of something bigger than just getting a workout. CrossFit gave me that something extra that I kinda needed in life.
It's my outlet. I love it. It's my passion. It's commitment. CrossFit is a sport now.
I like the challenge. I compete with myself, I'm healthier, I am stronger. Even though I was sore and I was getting a little discouraged, … I felt accountable to my class because they were looking for me there.
Finding CrossFit and then having to work really dang hard for whatever your goal is, whether it's to compete or just get a damn pull-up … .
I love it 'cause the workout's different every day. I can come in and I don't know what I'm doing.
Everyone is welcoming. Everyone is cheering you on. They don't let you quit even if you wanna quit.
We all share this experience, which is emotional. It doesn't look emotional. It looks like people working out, but it's emotional. I mean it's raw, it's intense, it's incredible, it's freakin' awesome. I'm gonna keep doing it for a long time, I hope.
CrossFit, to me, is a fitness program where the reward for doing well is the ability to express your fitness in everyday life in as many different planes or as many different activities that you can possibly imagine.
People walk through the door and say, 'Hey, where's all the machines?' We're the machines!"