Strength WOD:
EMOM (Every Minute On the Minute) for 15 minutes complete:
1 Snatch (Squat)
* 60 seconds to complete the lift. Post highest and lowest load.
Conditioning WOD:
Perform 8 intervals of 20 seconds of max effort work with 10 seconds of rest of:
Tabata Shoot Throughs
* Lowest reps in any interval is your score
Results
View this photo
View this photo
The Shoot Through is a an exercise that can be considered cruel and unusual punishment (when done correctly and in volume). Think of it as a burpee push-up on parallettes. When you 'shoot it', be fast!
Reminder: If you haven't picked up your pre-ordered Movember shirt please remind us when you come in. ($20 per shirt – Cash, Check or we can bill via MindBody)
On Friday the programmed workout will be last year's MoBro's WOD. This annual event of luxury for SRCF is inclusive of all MoBros, MoSistas and the rest of you NoMo's (any dude without a stache). Hit the WOD, donate if you want to support the fight against prostate cancer and share in the butt slaps and mustache rides.
Fist bumps to Amy N. for getting these amazeballs MoSista glasses. Ladies pick up a pair at the box on Friday: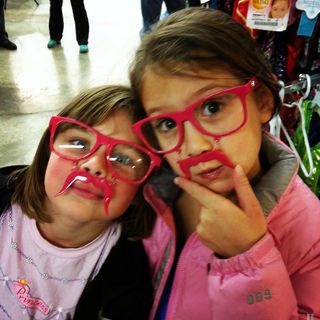 "Olympic Weightlifting Renaissance" by Andrea Maria Cecil, CrossFit Journal article [pdf]
Snatch demo: Note how the bar travels up and back and does not bounce away from the body. His body moves around the bar.