Strength WOD:
* 12 Minutes to find
1RM
Strict Press
* 8 Minutes to find
1RM
Push Press
Conditioning WOD:
4 Rounds for time of:
400m Run
50 Air Squats
Results
View this photo
View this photo
View this photo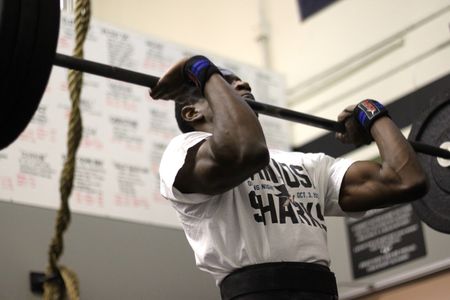 Two maxes today and plenty of PR's. The strict press can be very frustrating. One lift goes right up then you add 5 lbs. and it stalls right out. Following it with a push press where you leverage your hip drive should give you at least 25-35% more than your press. If you have a 1RM push press that is very close to your 1RM press, then evaluate your technique on your push press. It's likely because you don't have a vertical, fast dip and powerful drive of the hips during extension followed by a bar path that goes directly up rather than away from the body. Do not re-bend the knees (as that would be a jerk) and ensure you use the dip and drive to generate momentum overhead. Think "speed through the middle"!
400m Run/Air Squat WOD (Speal & Zac) [wmv][mov] » Feb 21 2008
Watch the 2013 CrossFit Invitational archived footage from Berlin: Crossfit: USA v Rest of World
Lake Powell workout with Jenny LaBaw, Brooke Ence, and Jenna Cannon – video [ipod] [mov] [720 HD] [1080 HD]