Snatch 1-1-1
Snatch 1-1-1
Use the heaviest weight you can for each set.
Rest as needed between sets.
In 10 minutes, build to a heavy single (full snatch). Not a max.
Chipper: Rows, Air Squats, Runs and Power Snatches
For time:
Row 1000m
80 Air Squats
Run 400m
40 Power Snatches (Pick load)
BTWB
Congrats to Mike M. on completing his 250th WOD yesterday! Love to see people practice consistency and discipline to better health!
We are back.  The Games are in the rear view mirror and now it's time to catch up and get back to using our fitness.  All of the past week's results will be up soon so thanks for the patience.  Speaking of thanks, a big THANK YOU to all of our coaches for keeping the gym on track with almost all classes being covered while the bulk of us were at the Games.  It's not easy running so many classes everyday for just a few coaches and the sacrifice from each of you to your personal schedule is greatly appreciated.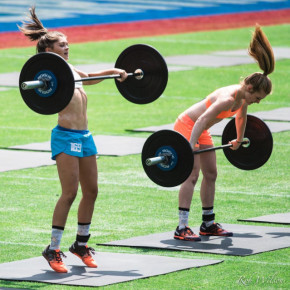 As usual the Games was an awesome experience that was both fun and exhausting, and having the opportunity to have Jules compete in the teens division was particularly rewarding.  Going into the Games as the 9th ranked teen in her division out of the Open, Jules finished in 9th at the Games.  We are really proud of her for her effort, results and the constant smile on her face throughout some tough workouts and long days. The Games stage proves that those competing are among the best CrossFitters in the world, regardless of what division.  Jules you are PROVEN!
All of the teens that were there are laser focused and so advanced its shocking to think that they are putting up numbers that several years ago were what the individual Games athletes were doing. It's going to be a tough task to get back there, but I have no doubt Jules will be putting in the work this next year to get back out on the soccer stadium field in the Stub Hub.