Main Class:
In a Team of 2, Complete 3 Rounds for time of:
50 Wall Balls (20#/14#)
30 Burpees
50 Ball Slams (30#/20#)
30 Overhead Walking Lunge With Plates, Alternating (45#/25#)
50 AbMat Sit-ups 
* One partner works at a time, alternate reps with your partner
Advanced RX Class:
Strength WOD:
1-1-1-1-1
Snatch 
1-1-1-1-1
Snatch Balance
1-1-1-1-1
Overhead Squat
Conditioning:
2 Rounds for time:
60 Double Unders
20 Burpees
10 Hang Squat Snatch (115#/75#)
Results
View this photo
View this photo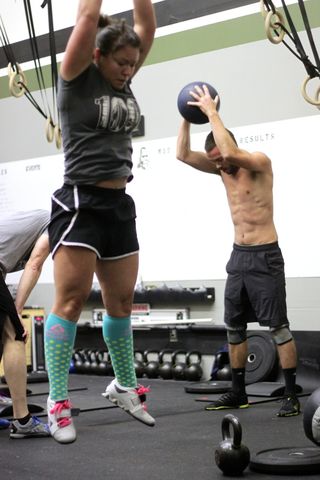 Awesome day on Saturday! I'm thinking that tons of snatches might be the key to getting everyone to show up for the Advanced Class…
Wear your 12th Man T today. Go Hawks!
One of the OG's of CrossFit, he was one of my instrcutors in 2007 at my Level 1 seminar. This man opened the first CrossFit affiliate here in Seattle and they are still going strong and bigger than ever. Legendary CrossFit: History and Top Workouts From the SEAL Who Inspired the Movement
Schedule:
New Year's Week:
12/30: Normal schedule Monday 
12/31: 0630, 0830, 0930, 1030 classes ONLY on Tuesday! NO PM CLASSES!
1/1: CLOSED  Happy New Year!
1/2 – 1/4: Normal schedule Thursday through Saturday