Strength WOD:
Squat Snatch
Take 12 Minutes to find your 1RM
Checkout WOD:
For time:
50 Double-Unders
5 Squat Snatch – Choose Your Load
40 Double-Unders
4 Squat Snatch
30 Double-Unders
3 Squat Snatch
20 Double-Unders
2 Squat Snatch
10 Double-Unders
1 Squat Snatch
Results
View this photo
View this photo
Double Snatch:
Coaching Tips on the Snatch (also known as Squat or Full Snatch):
Set up in a deeper squat than your deadlift, with feet right under your hips
Grip bar at your overhead squat grip
Utilize the hook grip to avoid pulling with your arms early and to lift more
Grip the bar and pull down into a squat, pushing the knees out with the chest up and weight on your heels
Take a deep breath and contract your back and ab muscles
Lift the barbell off the floor while pushing the weight through your heels into the ground
Keeping the bar close to the shins and ensuring that the hips and shoulders rise together
Accelerate the bar past the knees and gently pull the bar up and back as you explosively shrug and push your hips forward
At the top of the upward shrug simultaneously pull under the bar fast into the overhead squat position
Keep the bar overhead in line with your shoulders, hips, and heels while in the overhead squat
Look straight ahead and not down at the floor or ground
Push your armpits forward while arms are locked overhead as you stand up with the bar
Complete the rep by ensuring the hips open fully at the top before lowering the bar
Notes:
Let the Games Begin! – SicFit video [wmv] [mov]
Saturday Schedule: This Saturday we will run the Advanced RX Challenge Skills Test at 1100 for anyone who missed it last Saturday. The regular Saturday WOD will still be at 0930. 
There is also a CF Fundraiser and Team WOD Challenge on Saturday in Kent for anyone interested that is being run by Stoneway CF and has some participation from a couple of local boxes. If you or a group of you are interested in going then please let us know so we can get you the details.
CF Kids Session II:
Session II will begin on July 9th and run every Saturday at 0930 (we are not running it in June due to Regionals as well as the CF Gymanastics Cert that we will be closed for 2 weekends that month). There will be 5 classes in Session II and sign-ups will be via online. We will also be closed for the CF Games from 28 July through 1 August so will take a break from the Kids program that weekend and resume the following week.  Stay tuned for registration details tomorrow!
The "Twins" have arrived: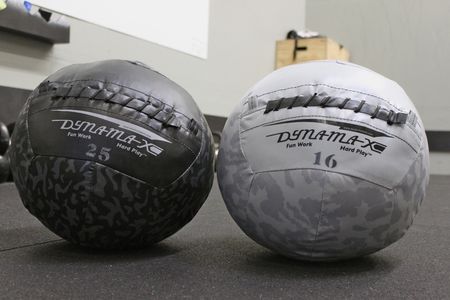 General rules on using my "Big Balls":
Anyone wanting to go a little heavy can always use my balls.
Make sure you handle my balls with care.
Please clean the balls when you are done. No one likes dirty balls.
Always put the balls away. No one likes to see big balls just lying around.
When throwing them, don't be scared of the big heavy ball or it might just hit you in the face.
No fighting over the balls. They are first come first serve.