5 Rounds For time:
20 Wall Balls (20#/14#)
20 Box Jumps (24″/20″)
Results
View this photo
View this photo
This pic sums up the WOD: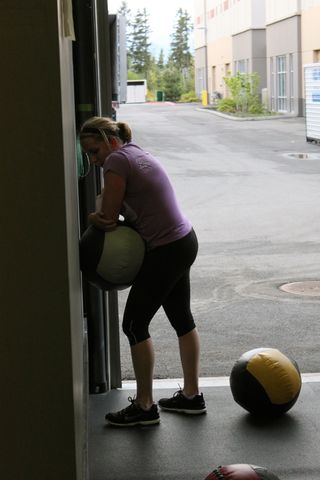 Quote of the Day: "That's worse than a burpee!" ~ Chelley after seeing the demo of the Dumbbell Manmaker in the warm-up
Jim H. and Karrie hit some box jumps:
Notes:
"The Return of SnoRidge CrossFit Kids"
Sign up your little Squatch (ages 5-9) for session II chaos with Michelle, Moe, and Rona on each Saturday starting July 9.
"Forging the Future of Fitness"
What is CrossFit Kids? A safe, fun exercise program designed to teach and improve areas such as coordination, flexibility, balance, agility, strength, speed and above all confidence! CF Kids teaches kids that "working out" can and should be fun and effective. These will be a once per week class that lasts 5 weeks per session. 
Session 2 will begin on Saturday July 9th and run every Saturday through August 13th (we will be closed July 28 through August 1 for the CrossFit Games) for a total of 5 classes.
Includes:
Space is LIMITED! We are expanding to 12 available slots per session (Once they are full the session will be sold out)
Sign up online now at MindBody to purchase a spot

Log In to your account
Select Series and Memberships, then CrossFit Kids to purchase a session

We are a CrossFit Kids Affiliate with a Kids Certified Program
45-minute Kids classes (Limited to members kids ages 5-9 ONLY)
Each class contains a warm-up, instruction, Workout Of the Day or "WOD", and a physically active FUN Game at the end! 
Bodyweight FUNctional movements like jumping, climbing, pulling, pushing done safely
Sessions are 5 weeks long of 1 class per week (Total of 5 Classes)
Classes on Saturday from 9:30am to 10:15am
Cost is $50 per child for each 5 week session (Sibling discount is $40)
Session 3 will run in August-September
Each session will require a re-registration per child
Kids classes will be held upstairs with Michelle, Moe, and Rona while the Sat. 9:30am adult class is in the main gym area
Matt learned a Back Lever and a Front Lever (he got straighter) tonight!