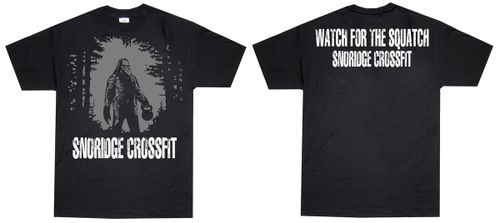 Our new "Squatch" T-Shirts are now available!  
These shirts are designed and made by Coalition Press Affiliate Shirts for us and are high quality Tees. They feature our mascot the "Squatch" holding his kettlebell and pondering his next WOD.
The men's tees are Affiliate Shirts "Hell On Earth" brand and are tagless.  The women's are Bella brand with a slightly longer cut (to avoid riding up while doing burpees, thrusters, overhead squats…) and are cut for women.
Both men's and women's are high quality cotton T-Shirts that fit well with little to no shrinkage. 
Colors:
Men's: Black / Women's: Black or Pink
Pricing: $20 each
*If you require shipping we will mail via USPS and will contact you with the shipping charge.
Please leave a comment with M/W, size, and color if interested.  We will soon have a PayPal link where you will be able to purchase online.