Strength WOD:
1-1-1-1-1
Power Snatch + Snatch (Squat)
* Touch and go.
Conditioning:
5 Rounds for time of:
10 Ring Dips 
10 Overhead Squats (135#/95#) 
200m Run
Results
View this photo
View this photo
The intent today was to get proficient going from a power snatch to a full snatch as both lifts should follow the same mechanics but the full snatch resulting in a below parallel deep squat finish. Putting these as a complex should reinforce the 1st and 2nd pull consistency while training speed under the bar in the 3rd pull into the finish position.
Cherie Chan corrects Lisa's overhead squat – [video]
Eloy just Pumping Iron: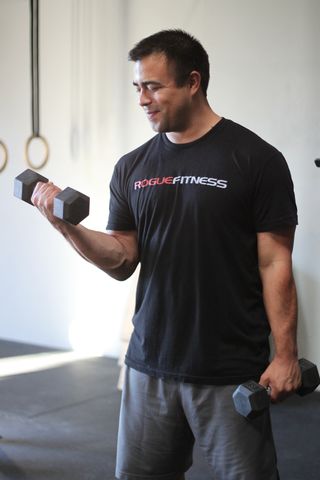 First Event Announcement of the 2014 Games
Nutrition:
Stop eating garbage! Friends don't let friends eat high fructose corn syrup.
A sweet problem: Princeton researchers find that high-fructose corn syrup prompts considerably more weight gain by Hilary Parker.