Strength WOD:
2-2-2-2-2
Back Squat
Conditioning WOD:
21-15-9 Reps of each for time:
Back Squats (135#/95#)
Kettlebell Swings (53#/35#)
Box Jumps (24″/20″)
Optional Checkout:
Max Reps Strict Handstand Push-ups
Results
View this photo
View this photo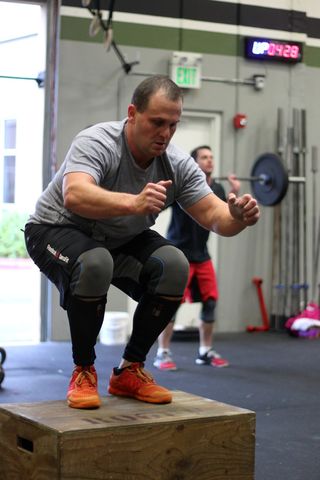 Lots of back squat PR's AND some strict handstand push-up PR's today!
The Frankenchipper is coming. Make sure you have your costume ready for our annual Halloween costume WOD next Saturday 10/25 at 9:30am. We will run waves and get all of you monsters, zombies, superheroes, villains, and other assorted characters through.
As the Winter/Fall season is upon us the box will be getting colder. The cooler weather keeps the door closed more often so the "funk factor" will be on the rise. To help prevent being a contributor to the "funk" here is a reminder to everyone to do a "sniff test" before you leave for the gym/change clothes and to put deodorant on whether you pass the test or not. This will help make sure the box smells like roses while we work out. That way you can raise your barbell if you're SURE!
Team Reebok East Wins CrossFit Team Series
Week 3 with Rogue Red and Rogue Black
New sign is up!