Pat getting ready to lift: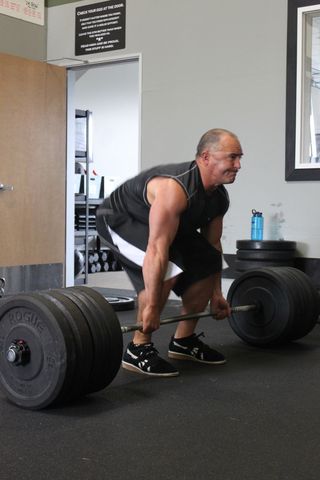 I wanted to start something new on the blog after getting the idea from David. The idea is to "feature" a fellow CrossFitter (including coaches) on the site with a few questions to provide a little background on the people we have within our gym. While we work out together everyday we may not know as much as we think about each other in the context of CrossFit.
The first person we are featuring is Pat. As he prepares for the CF Games Masters competition next weekend he was asked a series of questions from CrossFit HQ (that were asked to all competitors). I thought they were good questions and a good fit for our first profile. I plan to ask these and a couple other questions for future profiles to individuals and coaches at random. Read on!
Squatch Spotlight: Pat S.
What is your athletic background? What did you do to stay fit before finding

CrossFit

?
I was mainly a runner and very routine in the gym. I played tennis, basketball and baseball as well as swimming growing up. I also really gravitated toward the old "Stairmaster 2000"
What is your occupational history?
I own and manage two Allstate Insurance & Financial Services Practices in the Seattle area.
What is your family makeup? Do you have kids,

grandkids

, a spouse, or pets?
My wife Stephanie and I have been married 13 1/2 years! Two boys, Spencer 10 and James 9. We have a dog named Barkley.

 
Quick rundown: Age, Height, Weight, Masters Age Division, and Open Rank?
46, 5′ 10″  215  45-50  10th in the open

 
What drew you to

CrossFit

? How long have you been training and where (ex.

CrossFit

X, garage gym,

globo

gym)?
A friend told us about

SnoRidge

CrossFit

almost two years ago. I have been training there since September 2009. Tom and Michele

Nugent

own and operate an incredible "box" and the training is first class. I would also like to emphasize how instrumental the leadership and training has been at 

SnoRidge

 

CrossFit

. The owners, Tom & Michelle 

Nugent

 are incredible people and they inspire hundreds of people to live a "better life". 
What

CrossFit

competitions, local or official, have you competed in? How did you do in each?
Competed in the Northwest

Regionals

in 2009. I did not complete all work outs prescribed.
Competed on the

SnoRidge

Regional 2010 team. We placed in the middle of the pack last year.

Competed in a local "Muscle Man" competition in Tacoma in 2010 and placed in the upper 33% of my weight class.

Competed in a local competition in

Bellevue

and placed in the top 25% of the men's division.
Competed in the 2011 Sectionals at

SnoRidge

Crossfit

and finished 10th in the world in my 45-49 age division.
What are your favorite movements or workouts? Least favorite? Please include stats (ex. snatch: 130lbs., Cindy: 18 rounds).
Favorite work outs are Grace, Griff, Fight Gone Bad and the 5000 Meter Row

 

Least Favorite are Muscle Ups
What sets you apart from the crowd? (Please tell us something interesting about yourself)
I believe in myself. I believe in this sport. I really enjoy the competitive nature of

CrossFit

. I am passionate and determined about getting better and stronger and cheering on the next guy/gal. I believe that anyone that sticks with

CrossFit

is a "Hero" because it requires that you do not have a victim mentality. The community and environment at

SnoRidge

CrossFit

is positive, supportive and challenging.
Notes:
2011 CrossFit Games Masters Events Announced for Day 1 and Day 2