Skills WOD: 
12-15 Minutes to Practice:
Rope Climbs, Rope Climb Technique, Foot Locks
Strength WOD:
7 Minutes to Work up to a heavy 1RM
Squat Clean Thruster
Conditioning:
For time:
30 Thrusters (75#/55#)
3 Rope Climbs (15′) 
20 Thrusters 
2 Rope Climbs
10 Thrusters 
1 Rope Climb
Results
View this photo
View this photo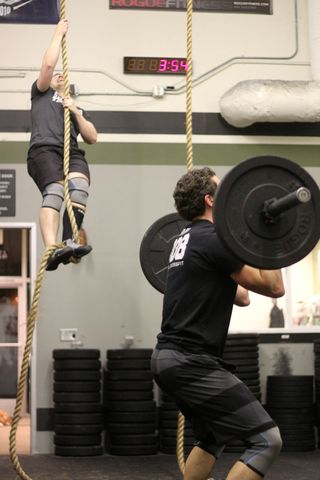 2014 is bringing a bigger and better SnoRidge CrossFit! We have secured more space. Without moving. This is a post-Christmas miracle. 
Today we signed over our kid to the bank and closed on the purchase of the adjacent building (yes, the one that has been for sale and had the huge "For Lease/For Sale" sign in the window). We will be working feverishly to combine these two spaces together and get through all of the dis-assembly, demo, construction, and assembly before the start of the CF Games Open.
Some background: This journey to find more space has been an adventure we have been on for several years. About a year after being in our current spot I began looking at options to grow. Over the past two years I have combed through almost every single piece of commercial property, retail, land and backwoods lot located within the Snoqualmie Valley that we could lease, buy, or build on. I have scoured North Bend, Snoqualmie, Carnation/Fall City, Preston, Issaquah Highlands and briefly considered Issaquah. I have looked at places like Dirt Fish, farm property, and commercial property which is aplenty here on the Ridge. I have looked into barns, vacant liquor stores, old banks, and even a beautiful building in downtown Snoqualmie that was out of our price range but would have made a small but beautiful space. It seemed like every WEEK or so on my way home from work or on a weekend I would actually drive around a town or location in the Valley and just look for space and "lease/sale" signs, then call any broker number listed. Multiple times I thought I had something "locked" only to find a significant hurdle, roadblock, or small problem like not having $1-2 million laying around.
I truly can't list everything I looked into. It was a hobby/obsession. A couple times we had very real options that would have had us move that didn't pan out for one reason or another. As option after option fell through or proved to be unfavorable I resigned myself to just waiting and seeing what would happen. To say we were discouraged is a massive understatement. During this time we dealt with other issues around staying here that at one point had us convinced we were going to have to move the gym and try to lease out our current space. Fortunately many things were resolved and we decided we could stay here and make it work. We decided to go after the space next door for sale. These past 4-5 months of moving to buy this building have been very challenging, and not saying anything to anyone was even tougher as so many of you have asked about more space. As our close date moved multiple times with each and every hurdle, we decided no one other than the coaches should know to guard against the possibility of something not working out. Today it all worked out. 
Hopefully by mid-February we will be running SRCF version 4.0 (1.0 was the garage, 2.0 was our spot down at the end of the 100m run turnaround where we leased from Kristy, 3.0 is our current location). Adding the neighboring building that doubles our current size will allow us to have more room to grow, space to alleviate the current occasional packed class, and ability to program a better mix and variety of workouts that are less constrained by logistics. It means we can stay put in this community and not move away. That has been very important to us in our search.
Please bear with us in the next several weeks as once we lock down a schedule to get the work done with our contractor, we will have some disruption to the class schedule to allow it to get completed as quickly as possible. Stay tuned.
Finally, thank you all for your support. Thank you for being a part of the SnoRidge family, for wanting to workout here, coach here, and thank you for staying. Each of you are a part of what we think makes this gym a very cool place to work, sweat, and laugh together. 
The cool features:
Double the warehouse floor space of our current box with sound mitigation measures
A bigger pull-up rig
More ceilings and rafters to hang more ropes and rings
A second roll-up garage door with an additional pull-up bar to be mounted
4 bathrooms to double the capacity of pre-WOD nervous pee-ers!
A new entry area that will have it's own seating area, retail area, expanded Squatch Cave
More storage cubbies so you can leave more of your shit at the box and I can donate it to Goodwill!
More wall space for my banner collection
Bigger upstairs area for which we have to figure out what to do with it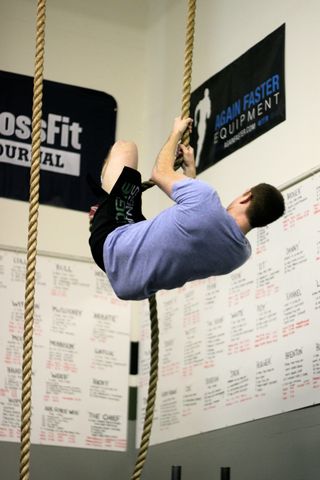 Two other things to announce:
1. New Coach! Lindsay has completed her intern period and survived her initial hazing and pledge period. Coach Lindsay will be on probation (and known as Coach Probie although we haven't defined what probation really means) but will be taking over the Friday 6pm class starting tomorrow. Jeremy will take the Thursday 7pm class from me. I will have more time to sit around and workout and still stay up way too late at night. Back to Lindsay, we are stoked to welcome her aboard. God help her, and please go easy on her. Kidding, she will be great and no doubt a kick ass addition to our coaches.
2. Huge back handsprings and high fives to Jenn Rogers for leading her team with her best scores of her career in her latest gymnastics meet for Mt. Si High! Thanks for the shout out in your article!
CF Games 2014: 
Register for the Open Now! Don't forget to select our affiliate to join the team!