SRCF "Stop the Slop WOD" Performance Challenge 4.0
3 rounds for time of:
Run 200m
30 Air Squats
20 Push-up (hand release)
10 Chest-to-bar Pull-ups
5 Thrusters (135#/95#)
Movement standards:
1. HR Push-up: Must keep toes on the ground and return to a plank each rep. Thighs must leave the ground. No "worm" or "rocking" allowed.
2. Chest to Bar Pull-up: Full arm extension, chest touches bar
3. Air Squat: Hip crease below top of knee, open hips at top
4. Thruster: Clean from ground, must pass below parallel and lockout overhead with open hips before lowering barbell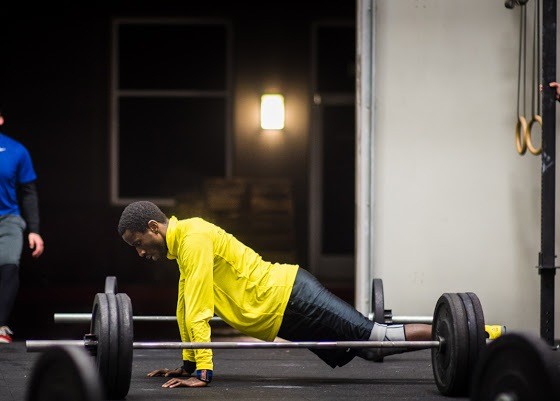 Photo by @robcwilson
Today was our 4th "Stop the Slop" Performance WOD Challenge. We will re-test this WOD in 30 days and for those who entered the challenge we will measure the % improvement in times and the winner will get a portion of the prize money (the winner of the Nutrition Challenge will also share in the prize money). For the next month the focus of "Stop the Slop" is not only to eat right, but also to clean up technique and form. Use this time to work on becoming more efficient in movements, transitions, rest, and recovery.
This year I changed the programming again to allow for a workout that is still similar to "Baseline" and past Stop the Slop WOD's but mixes it up with a heavy Thruster. Removing the abMat sit-ups this year meant less reps overall with a slower "rest" movement while keeping you moving quickly on the shorter runs. Hand Release Push-ups and Chest-to-bar returned while making this 3 rounds over a straight chipper made this challenging. If you need to "buy-in" then see your coach to sign up and fork over your cash.
Make-ups are only tomorrow for anyone who missed it today and wants to buy into the Performance Challenge.
Looking forward to seeing the improvement in a month!