(Saturday WOD)
5 Rounds For Time: 
400m Run
25 Medicine Ball Cleans (20#/14#)
Results
Med Ball Sequence with Sean:
Yesterday was tons of people doing epic sh*t! There were 11 of you that ran the Fall City 5k/10k race, 8 of you that cleaned their way through the morning WOD, 2 who strung multiple muscle-ups, 33 who attended the Whole 9 Nutrition workshop, and over 50 plus that came to the BBQ afterwards. It was most definitely a success.  
For those who attended the workshop we think it was a great education and discussion from Dallas and Melissa around proper nutrition and its effects on the body. Understanding insulin sensitivity and inflammation and the foods that promote more or less of it is vital to truly eating for long term health and success. Just some of what we learned: balancing macronutrients and the best sources of them, what foods are net acidic or alkaline in the body, fueling both pre and post workout, the roles of food on healing, recovery, and performance, and how the impacts of a prolonged unhealthy diet can lead to a life of metabolic derangement. 
Take the Whole 30 Challenge and make the changes that will help you take charge and accountability to improving your overall fitness and health. Remember to make choices for quality in food and that just because it's healthy doesn't mean you are sacrificing deliciousness! We hope you enjoyed it, post your thoughts if you want!
Melissa and Dallas from Whole 9: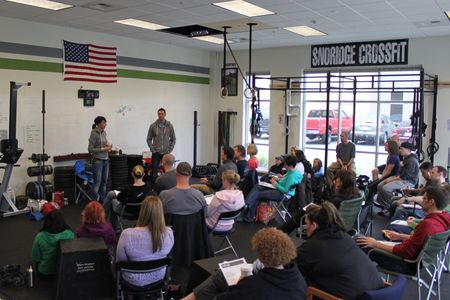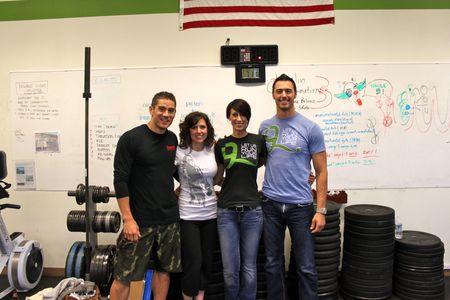 Thanks to everyone who came out and brought food and drink and hung out to witness our new ROWKILLA's! That's right we are crowning three people as Rowkilla, Jeremy D. who topped the fish game with a score of 2185 and young Ryan (Marc and Laura's son below) who decided to row a 10k for an hour and 9 minutes and James (Pat and Steph's son) who rowed a 5k while the rest of us ate BBQ. Nuts!
Ryan "Rowkilla":