Skills WOD:
7 minutes Handstand Push-up practice
Conditioning WOD:
5 Rounds for Time of: 
30 Double Unders
25 AbMat Sit-ups
20 Box Jumps (24″/20″)
15 Pistols
Results 
View this photo
View this photo
View this photo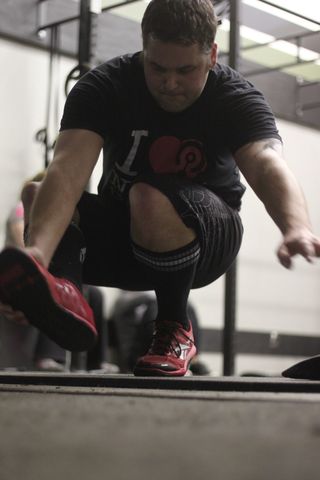 We have a winner(s)! The results are in.
The Nutrition Challenge winner is Eric S. with 8.45% change in bodyweight over the course of the challenge. That's a change of over 19 lbs. lost in 30 days! Eric stuck to a Whole30 by reading up, hunting and gathering, and then diving right in. 
The Performance Challenge winner is Allison with a hey-uge 20.11% time improvement in the "Clean and Jerk Baseline" WOD. She PR'd by close to 5 minutes in the rematch!
The 30 Day Stop the Slop Essay Challenge winner was a very tough and close choice. Each and every essay that was submitted was well written, sincere, and powerful for us as coaches to read. The essays were to include the individuals experience over the 30 day challenge as well as the impact it had on them. After a vote the winner of the Essay Challenge is Greg M. To everyone who submitted one please let me know if we can share it with the gym by posting it on this website (last names will be edited out and any other info requested of course). Each and every testimonial is motivating but I understand if you want it withheld.
Almost universally each participant saw improvement over the past month. While we would love to pick more than a single winner (with 1st, 2nd and 3rd places) the point isn't to "reward" almost half of the field with a prize. Instead we are hoping that the bigger lesson to take away is that through proper nutrition, consistent training, recovery, intensity and technique can yield big improvements in a small amount of time. If you saw positive changes these past 30 days then keep with it. Don't stop what you started now simply because the challenge ended. Stay disciplined and stick with it. Make this about a lifestyle change. Build good lasting habits and see how your health and fitness will set new PR's!
Congrats to each of the winners! Here is what they win.
Each person will receive the following:
A choice of a $125 gift certificate to either Reebok CrossFit, Rogue Fitness or lululemon athletica. Happy shopping!
A choice of Stronger Faster Healthier Fish Oil or a bag of SFH Pure Whey Protein powder
SRCF water bottle
Fist bumps and butt slaps to everyone who participated in our 3rd annual challenge. For those who didn't jump in next time don't stand on the sideline. Get in the game!