For Time:
400m Run 
40 Squats
30 AbMat Sit-ups
20 Push-ups
10 Pull-ups
20 Power Snatch (115#/75#)
10 Pull-ups
20 Push-ups
30 AbMat Sit-ups 
40 Squats 
400m Run
Results
View this photo
View this photo
View this photo
Sisterly Support: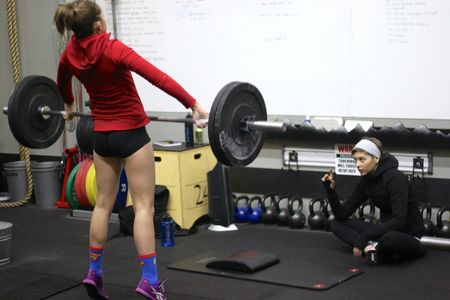 Today was day 1 of our annual "Stop the Slop Challenge"; a 30 day nutrition, performance and essay challenge. This time we brought back the mash-up WOD but with a twist of "Baseline" and "Isabel" at a lighter load. Pairing up with someone to serve as your judge/counter enforced quality of movement and helped push your performance.
There are three challenges you can choose to participate in but you must "buy-in" to be eligible to win any of them. For those who are opting in to take any/or all three challenge(s) make sure you sign-up and bring your buy-in ($25 cash money for each challenge) no later than Wednesday Jan. 8. If you want to do two challenges and be eligible to win two then it's $50 into the pot. 
To better understand the specific challenges READ YESTERDAY'S POST.
For the performance challenge we will revisit this WOD on Feb. 4th to see who makes the most improvement. However you scaled this WOD to start the challenge is exactly how you will repeat it.  This way we can measure % improved to determine a winner.
For those tackling the nutrition challenge make sure you get your weight recorded by Wed. of this week. On Monday 2/4 and Tuesday 2/5 we will do the final weigh-in's to calculate the person with the most % of weight loss.
Anyone choosing the essay challenge must submit their essay by Wednesday 2/6. All essays will be judged by the coaches and voted for the best essay.
Prizes will be determined based on number of participants who buy-in. 
Make-ups:
If you are buying-in to the Performance Challenge and missed today's workout you can make it up this week through Wednesday 1/8 but you will have to re-test on 2/4. If you don't want to participate in any of the above challenges then simply show up for class and hit the workout hard each day. Nothing new.
Coach's Tips:
For the next 30 days make them count. If you want to see positive results you have to have consistency. Consistency in your workouts, nutrition, recovery, and mobility. No matter what challenge you enter remember you cannot work your way out of a poor diet. You will see better results by sticking with a clean and healthy nutrition plan every single day then you will by coming in here and getting your ass kicked 2-4 times a week.
If you do this then you will see positive changes at the end of 30 days and beyond. Changes in your appearance maybe, but definitely changes in how you feel, recover, and function. If you make it through the first 30 days by stopping the slop you will have reached a point where you will likely know what effects both processed, refined sugar, alcohol and low carb crap has vs. what clean, natural foods have on your body. Then you will have an informed lifestyle choice to make.
We encourage everyone to eat clean and have provided everyone resources to use. If you aren't following a paleo diet or a strict Whole30 then consider the Advocare 24 Day Challenge that is a 10 day Cleanse followed by a 14 day MNS (Metabolic Nutrition System) Phase that enhances weight loss when combined with clean eating.
Questions about food? Dig out the Whole9 Nutrition Guides you got in OnRamp and read up on what you should and should not be eating. Give it a shot. What have you got to lose?
The other part of the challenge is to focus on technique. Make every effort every time you come in the gym to learn, practice and perfect your movement. If you do that the PR's will come and the injury bug will stay away.  3-2-1 Go!
Nutrition: How To Win An Argument With A Nutritionist – authoritynutrition.com
Interview techniques: Danny Broflex: Episode 1 – The Interview – video [ipod] [mov] [HD mov]