For Time:
400m Run 
40 Squats
30 AbMat Sit-ups
20 Push-ups
10 Pull-ups
20 Clean and Jerks (135#/95#)
10 Pull-ups
20 Push-ups
30 AbMat Sit-ups 
40 Squats 
400m Run
Results
View this photo
View this photo
Great pull on the clean by Coach Jeremy (no early arm pull as he hits extension):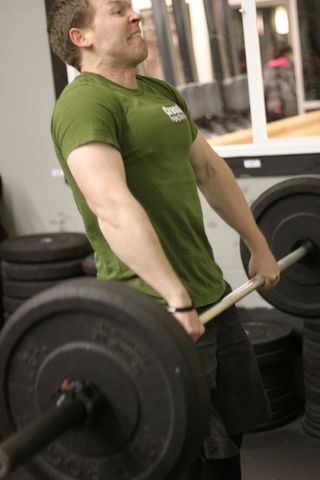 Today was day 1 of our 30 day nutrition and performance challenge and we started with a mash-up WOD of "Baseline" and "Grace" that was definitely a good challenge. For those who are opting in to take the challenge make sure you bring your buy-in ($25 cash money) and we will revisit this WOD on Feb. 7 to see who makes the most improvement. For those tackling the nutrition challenge/Whole30 make sure you get your weight recorded. If anyone wants to take tape measurements then we will have a tape in the gym you can use. On 2/7 we will do the final weigh-in to calculate the person with the most % of weight loss. It looks like we have a pretty good sized group of Team Squatch participating!
If you are buying-in to the Challenge and missed today you can make it up this week through Thursday but you will have to re-test on 2/7.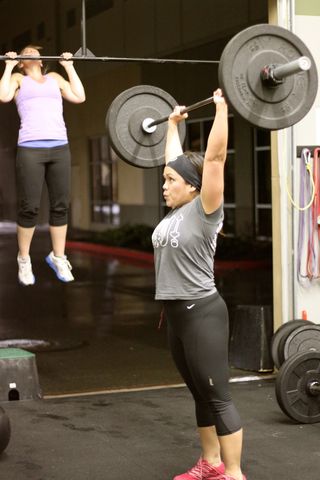 "The 27 Rules of Conquering the Gym" from the Wall Street Journal
Deadlift/Push-up WOD Demo with Tommy Hackenbruck and Taylor Richards-Lindsay – video [wmv] [mov]
Notes:
Congrats (and contests!) are in order for a couple of you. Chest bumps to both Laura F. for getting her first 3 unassisted pull-ups today and also Christa B. ran the Disneyworld 1/2 Marathon this past weekend! Big milestones!
SRCF Kids: Teens Class:
Here are the details and sign-up info for our Teens class that is starting on 1/31:
SRCF Teens Class will be a 6 week session 
Tues. and Thurs. from 4-5pm only
Ages: 12-16 years old
Cost: $120 per session (12 classes at $10 each)
1st session will begin 1/31 and run to 3/8
Coach Moe will run the Teens Program 
One week break between sessions
Limited to a class size of 8 (1st come 1st serve on purchasing a session; wait list will be established for future sessions with priority to returning teens)
Classes, movements, instruction and WOD's will be scaled appropriately to teens (ages 12-16)
Teens should expect to practice exercises and drills without load until they can demonstrate proficiency at the sole discretion of the coach
Participation will not enable teens to workout with adults in the adult class (i.e. they are separate)
Teens who enroll should be fully willing to participate in CF Kids
MindBody will be enabled as the only way to sign up and pay. Stay tuned for the site to "go live" and be announced later this week!