3 x 5 Strict Pull-up and Skill Work
 3×5 Strict Pull-up then complete:
Skill Work
12 Minutes to practice any skill you need work on.
Ex: double unders, kipping pull ups, butterfly pull ups, muscle up progressions, handstands, handstand walk, handstand push up progressions, etc.
3 RFT: Double Unders, Wall Balls and Muscle Ups
3 rounds for time of:
50 Double Unders
25 Wall Balls
10 Muscle Ups
Or
3 rounds for time of:
50 Double Unders
25 Wall Balls
10 Chest-to-bar Pull-ups
BTWB
Photos by Rob W.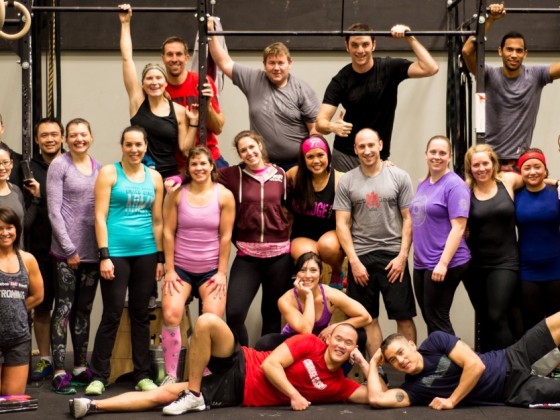 Happy 800th WOD to LuAnne! That is a lot to be proud of. Tonight was her "800 Party" and it seemed like half the gym pretty much showed up. Good energy and lots of fun for all who completed this variant on an old Open workout (12.4). Speaking of the Open, I can't wait for Friday Night Lights!
If you are on the fence about the Open, then not only is there a scaled option this year, but you need to watch the first video below and get over your excuses.
Dave Castro Explains the Scaled Option
Also congrats to Mike M. for his first muscle-up today!
Nutrition:
Lynn is starting her own protein bar business and is taking orders from SRCF members. To place orders and for information about ingredients you can click on the order form link.
"SnoRidge friends, 
As many of you already know, I've been occasionally offering my protein bars to gym members with a goal of fine tuning my recipes and eventually offering them for sale.  I have finally bit the bullet and decided to go ahead with it.  As it is currently a hobby, I'd like to mainly cater to SnoRidge athletes, family and friends.  My goal is to eventually turn my passion and hobby into a business.
With the help of Tom and Michelle, the link to my order form will be posted on SnoRidge's website.  When I receive your completed order form, I will then email you with your invoice.   Payments can be in cash or through PayPal.  For more detailed information, please take a look at the order form.  If your questions are still not addressed, feel free to email me at nfbars@gmail.com or ask me when you see me!
~ Lynn"