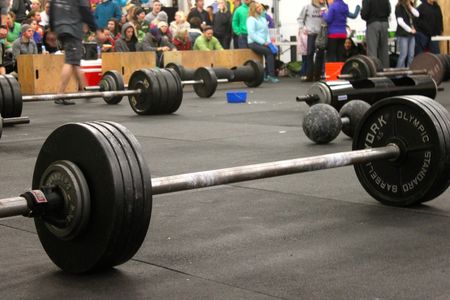 Yesterday was Mt. Rainier's Strongest Man and Woman, a fundraiser for FragileX Research held at Rainier CrossFit in Puyallup.
Event one: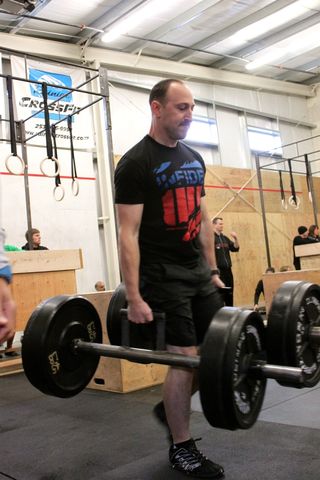 Farmers walk 100ft (Handles loaded to 190# each hand for men)
10 Box jumps (30″/24″)
Farmers walk 100ft
10 Box jumps 
Farmers walk 100ft 
10 Box jumps 
Farmers walk 100ft 
Event 2: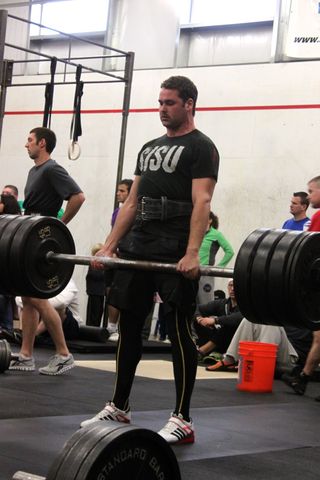 Clean and Jerk / Deadlift Ladder
Clean and Jerk, then deadlift, then clean and jerk for a total of 10 C&J's and 10 deadlifts each. Deadlifts are with an Axle (Fat bar), C&J's are with various odd objects to include logs, dumbbells, axles, etc. You'll have 20 seconds to complete each lift and 10 seconds to move between platforms. After you've reached failure in one movement you can continue on with the other movement until failure. 
Event 3: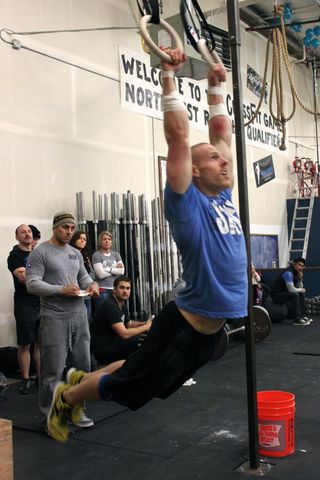 30 Double unders
3 stone loads (200#/100#)
3 muscle ups 
As many rounds as possible in 7 minutes.
Stay tuned for Results at RCF Strongest Man and Woman 6
Coach Mark, Rob and Derek all competed and represented yesterday for Team Squatch. It was an awesome day that had some very high level competition (over 16 athletes have been in Regionals Competitions, and 9 have been in the CrossFit Games as an individual or team athlete over the past few years), a big crowd, a very well run event, and just some cool accomplishments from our very own athletes.
Mark (who finished in the top 10), Derek and Rob were strong workout after workout against some very competitive men in the Under 200 lbs. division. Derek hit big PR's on the farmer's carry and deadlift/clean and jerk ladder, and Derek and Rob both moved heavy stones and knocked out muscle-ups for the first time in competition. All of them had fun, got a little out of their comfort zone, and came away with some great experience. It was also great to see a big turnout from SRCF in the stands to watch and cheer (thanks to all who came down).
One thing this event drove home is that even though it's a part Strongman/part CrossFit competition, any CF'er can compete (Scaled or not), have fun, do new things, and benefit an important cause. Let's get more of Team Squatch out there next year!
Mo Envy: