Main Class:
As a Team of 2, Complete for time:
50 Power Snatches (115#/75#)
60 Pull-ups
70 Overhead Squats (95#/65#)
80 Burpees
* Split reps with your partner for each exercise; drop weight as you go
Advanced RX Class:
Strength WOD:
Every Minute On the Minute for 10 Minutes complete:
1 Power Snatch + 1 Hang Squat Snatch + 1 Overhead Squat (Complex)
As Many Rounds As Possible in 12 Minutes of:
3 Power Snatches (135#/95#)
6 Box Jumps (24″/20″)
50m Run
Results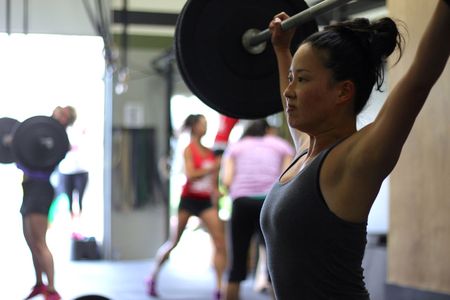 Debra and Rob W. competed today at Jet City as a team in the Jet City Tango Throwdown. They are henceforth known as Team DeBob. They took 2nd in one of the four events by going max rep pistol crazy!
Sign up for Hope next weekend! "Hope For Cures: A Family Event" with Jerry Hill – [video]
Dan Bailey Visits CrossFit HQ: Part 1 – [video]
Dan Bailey Visits CrossFit HQ: Part 2 – [video]
Podium Dreams: Scott Panchik games.crossfit.com