4 Rounds for time of:
400m Run
25 Kettlebell Swings (53#/35#)
Results
Welcome Bonnie (shown completing Elements), Tom, Bruce and Richard who all are joining us: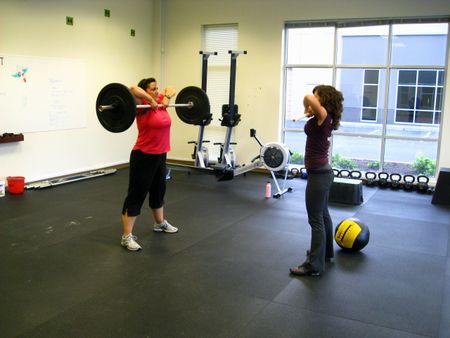 September seems like a month of events, challenges and birthdays. Everything from opening the new gym, holding Sunday park workouts for lululemon athletica in Bellevue Square park, celebrating several upcoming birthdays [WARNING! WOD Alert!], having the follow-up WOD for the "Grace Challenge", and the 
Fight Gone Bad workout fundraiser
on 9/26 we will be a bunch of busy CrossFitters!
If that isn't enough for you then October will be equally chock full of nuts. Of the paleo variety. We are putting a few things out there to gauge interest levels. See below and post to comments if interested.
One: Nutrition Session – We would host a Saturday morning set aside for a session geared around crash diets vs. lifestyle change, paleo and zone eating and the effect on you as an athlete, types of foods to eat and avoid, eating pre and post WOD, sugar and high glycemic foods and their effect on you, and other topics. Who knows maybe even a light paleo snack bar afterwards! A few of you planted this "seed" in our heads (paleo terminology – eat nuts and seeds).
Two
:
Salmon Days Rotary Run 5k
run – Lyndi, Amanda, Lucy and Lorri all talked about running this race. It's on Sunday 10/4 at 9am. There is also a 10k. For those who want to run we could create a SRCF Team for you to register as part of.
Three: Halloween WOD! We will be having a "trick or treat" WOD on Hallows' Eve (10/31) in the morning. Costumes required (we aren't kidding)! Plenty of time to get a workout in and then gorge yourself on sweets. Oh wait, never mind that part because after the nutrition session you won't eat candy anymore.
Fight Gone Bad fundraiser status:
We have raised $854 as a gym for two great causes (Athletes for a Cure and The Wounded Warrior Project)! Donations on behalf of our gym can be made 
here
.