Main Class – "Tabata This":
For each of the below exercises perform max reps for 8 consecutive Tabata intervals of 20 seconds of work followed by 10 seconds of rest. Rest 1 minute between exercises.  
Tabata Row
Rest 1 Minute
Tabata Squats
Rest 1 Minute
Tabata Pull-ups
Rest 1 Minute
Tabata Push-ups
Rest 1 Minute
Tabata Sit-ups (* Use AbMat)
Tabata score is the least number of reps performed in any of the eight intervals. Unit for the row is "calories". Post lowest Tabata score for each exercise and total for final score as Total Reps. E.G., 10, 20, 5, 10, 15 = 60
Advanced RX Class:
AMRAP #1 in 8 Minutes:
5 Power Snatch (135#/95#)
10 Pull-ups
Rest 5 Minutes, then complete:
AMRAP #2 in 7 Minutes:
7 "2 for 1" Wall Balls (20#/14#)
21 Double-Unders
Results
View this photo
View this photo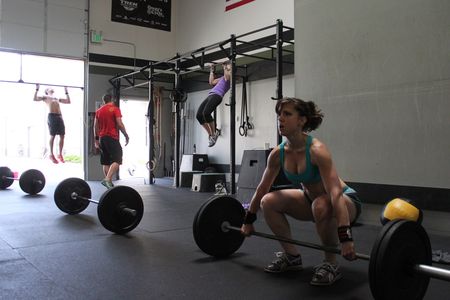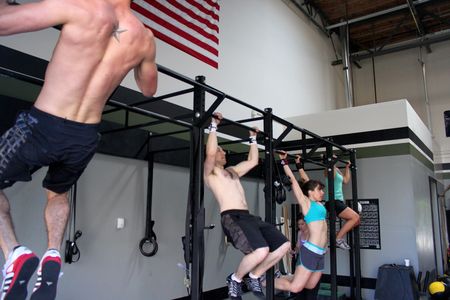 HIIT or High Intensity Interval Training is just one aspect of CrossFit workouts. Examples are Tabata WOD's or other interval WOD's like Fight Gone Bad or max effort WOD's with programmed rest periods (ex. "Barbara" or even "Nicole" where the high intensity is the max pull-ups and the medium intensity run is the recovery). The Tabata interval is 20 seconds of work followed by 10 seconds of rest for 8 intervals. This interval improves aerobic and anaerobic work capacity dramatically over traditional low to medium intensity endurance style training. It's benefits over traditional training include accelerated fatty acid utilization and fat loss, improved insulin action, lower resting heart rate, higher oxygen consumption (VO2 Max), greater muscular endurance and overall aerobic fitness. Who was Dr. Izumi Tabata and what was this study that showed it's effectiveness of his short interval protocol? Read about it at the link above and also more here.
Not all WOD's fall into this strict category, as HIIT is not the perfect end all training method. Doing the same thing over and over will result in hitting a plateau and minimizing results. Mixed in with pure strength training, skills training, cardio-respiratory endurance training, and other high intensity non-interval training and you have a recipe for success that is CrossFit. Combine it with proper nutrition and recovery and you have a fun, challenging, successful and potent combination.