Main Class:
As Many Rounds As Possible for 20 Minutes (Teams of 2): 
3 Power Cleans (155#/105#)
6 Hand Release Push-ups 
9 Box Jumps (24″/20″) 
* Partner up. Alternate exercises in order. Partner #1 does PC, Partner #2 does Push-ups, Partner #1 does Box Jumps, Partner #2 does PC, etc.
** One bar, one box.
Advanced RX Class:
Strength WOD:
1-1-1-1-1
2 Position Clean (Floor/Mid Thigh)
Conditioning:
For time:
30 Overhead Squats (95#/65#)
7 Muscle-Ups
20 Overhead Squats 
5 Muscle-Ups
Results
Jim waits to tag up with Christa and start his push-ups: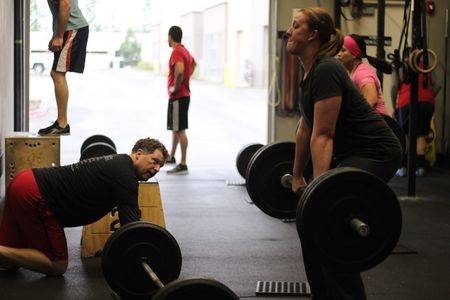 Tomorrow is the Gorilla Games at the Meydenbauer Center in Bellevue. Feel free to come cheer on your peeps from Team SRCF as Mark, Spencer, Meghann, Jenna, Deb, Rob W., Derek, Lindsay and Rona all compete and kick ass in 3 WOD's tomorrow. The entry fee is $10 and kids are free. It starts bright and early at 8am and runs all day. 
Overhead Squat & Muscle Up WOD Demo with Bill Grundler – video [wmv] [mov] [HD mov]
Outstanding coaching video:
"Coaching the Push Press" with Miranda Oldroyd – video [wmv] [mov] [HD mov]
Yo anyone know where all the 10's went? #donisaplatehog