In teams of 2 complete for time:
300 Kettlebell Swings (53#/35#)
Run 400m
* One team member swings while one runs 400m. Tag up after each run.
** Stop once you reach 300 swings, regardless of where the runner is.
Results
Picture Perfect Swings: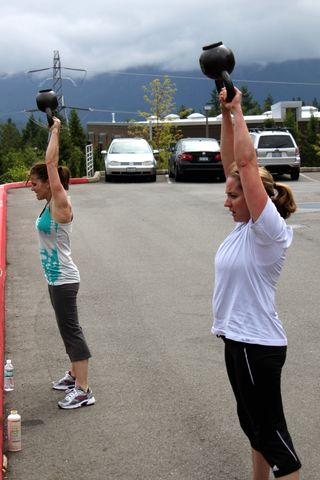 Checkout the Results pic for the quote of the day…
Back to back team WOD's this weekend. It just seemed right to throw some teams together. "Tag Team" is a WOD we made up awhile back when we stayed overnight at our friends and had limited equipment for putting a WOD together in the morning. Having only a couple kettlebells made this a guys vs. girls match and a great workout for whoever could hit 300 fastest.
A funny thing happened after the WOD today. An impromptu WOD broke out! Nothing like a volunteer 2 a day! Graham wanted a little extra work and Don, Curtis and Jim jumped in. Then pretty much everyone chose to do a little "overkill" after the kettlebell swing tag team with a short 21-15-9 of pull-ups, push-ups, and sit-ups. I guess "Trevor" wasn't enough…
Notes:
Welcome to Steve, Leia, and Scott (home from WSU for summer break) who finished Elements this past Friday! See you all in class soon!
What does coffee have to do with dancing goats? Read "15 Things Worth Knowing About Coffee"
For you distance runners, tri-freaks and just plain endurance folks:
CrossFit Endurance was featured in LA Sports and Fitness Magazine [pdf]