In teams of two alternate the following until you complete a total of 300 Kettlebell Swings for time:   
Run 400m
Kettlebell Swings (53#/35#)
One team member runs 400m while the other swings. Tag up after every run and continue until you reach 300 swings total. 
If solo then alternate 400m runs and KB swings until you reach 150 reps. 

For teams of three have one member run, one complete KB swings, and one hold a plank. Rotate after each run until you reach 300 reps.
Post total time per team. 

Results
"Perfection is not attainable, but if we chase perfection we can catch excellence." ~ Vince Lombardi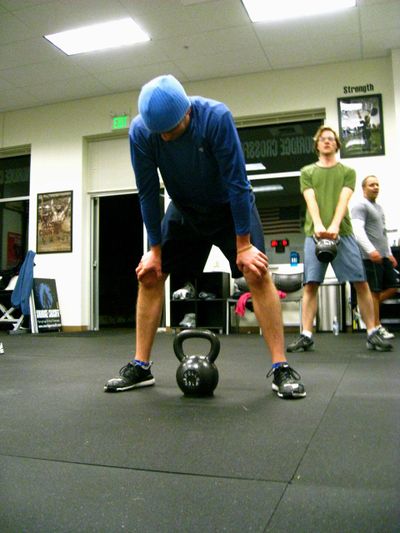 Today was about teamwork. Unless you were Sherry who was solo at the 5pm class (I think she may have a beef with the afternoon crew). We haven't mixed in team WOD's in awhile and after a long holiday and "Fran" yesterday we figured this would be a fun one. Knowing you have a partner waiting for you makes you run and swing faster and not rest as often. In fact you get very little rest in this one as the "penalty" becomes the run since you have to reach 300 as fast as possible.
As for "Fran", Jorge, Pat and Curtis made it up today and two of them went RX'd for the first time in this one. Congrats to Pat and Curtis for forcing me to update the Leaderboard after one day. Keep it up!
Jorge and Pat get acquainted with Fran:
Notes:
The Lumberjack Hero Memorial WOD on behalf of the victims of the Ft. Hood Massacre is this Saturday at 10am, 11am, and 12pm. In order to focus on ensuring everyone can complete this WOD we are limiting the workout to SnoRidge members and drop-in's only to experienced CrossFitters. If you are a local CF'er and want to drop in please contact us in advance. Post to comments or let us know what time you plan to attend. We ask that you consider donating anything to help the fundraising effort. Click on the link to donate.
After the WOD at noon or so I intend to gather those of us that are training for the Affiliate Team to cover plans and answer questions. Please try to come to that meeting, if you can't I will try to meet with you separately. Sectionals are in February and Regionals and Qualifiers for the Games are in May. We have a lot to do in little time. Let's train hard, hammer our weaknesses and have some fun!